"Tharms"
I finally got around to putting the straps on my tubular camisole - Stefanie's pattern from
Glampyre knits
. I made it with this color-your-own wool from
KnitPicks
- which I dyed with a combination of Kool-Aid I could
never
recreate. But I really love it. I love the color, loved working the pattern, and love how it turned out. However..... this is the way I've seen most people wear theirs: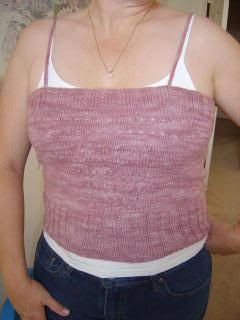 I am never going to be comfortable with this, because:
1 - I am over 40 and have three teenagers, and I think I've missed the window for wearing spaghetti straps, and am not going to set myself up for their ridicule - I do have my limits.
2- I am a bit heavier than I would prefer to be.... and I have "tharms." You know, arms that are shaped more like thighs. I'm
not
gonna be drawing attention to the tharms.
Actually, I have beatifully sculpted muscles from going to the gym three to four times a week, you just can't see them under the layer of fat I'm still trying to work off.... so, I'll wear mine like this: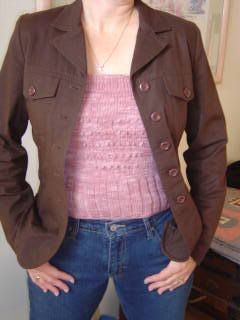 I really do love it, and think I'll get a lot of wear out of it,
under
my jackets, though. And the BEST part is - between the $3.49 for the yarn, the $4.25 for the pattern, and about a buck's worth of Kool-Aid, this beauty only cost me $8.74!!!! This is the deal of the century! I think I'll be buying a lot more of that yarn!
And, check it out -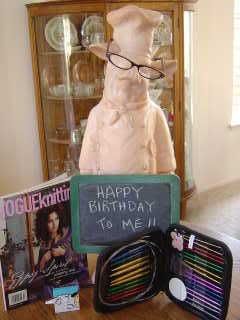 Yeppers - it's my birthday today! I guess I dropped enough
subtle
hints, because lookie.... my sister-in-law gave me a subscription to Vogue Knitting, and the hubby and kids came through with my
Needlemaster
and that cute little sheep tape measure. I hope I like the Needlemaster - I'll have to let you know. I have all kinds of needles, plastic, wood, aluminum... and my favorites, my Addi Turbo's, but I can't afford an entire collection of Addi's, and other than the Addi's, I really prefer aluminum.... so we'll see.
Tomorrow we do birthday dinner at my parents with my family..... we'll have to see if they caught those hints for gift certificates to my favorite not-so-local yarn store.....
Oh... and as a birthday gift to myself.... I clicked the "Add To Cart" button on my Wish List order from KnitPicks. Sweater yarn is on it's way for my
Sitcom Chic
. I'll show it to you when it gets here.... oh, and, of course, more sock yarn!