Spy On Kaity For Me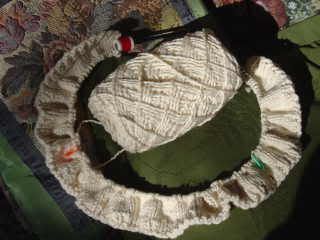 Here's the progress on my
Sitcom Chic
. I think I'm gonna like it..... it's
really
soft. However, since my yarn for my
Marilyn's Not-So-Shrunken cardi
didn't come today... it means the Sitcom is the lucky winner for my camping knitting this weekend. Hmmmm, white knitting and camping, practical, no?
But, here's the worst part.... it means my yarn
will
probably come this weekend, while I'm away.... and I just know Kaity is going to break in to my package and molest my yarn, BEFORE I get to. NOT acceptable. So, your assignment is, if you care to accept it.... stalk
Kaity's blog
this weekend and if she is cheeky enough to brag about molesting my yarn before me.... YELL AT HER!