I Love My Blogger Friends
Man - I am definitely a vacationhead lately - we're going out of town for Thanksgiving and I already can't wait. I need some down time! I'm feeling restless and lazy at the same time. Good thing for me I work at home... the only thing that got me out of my workout clothes this morning and into the shower was that my stoooopid jog bra was digging into my shoulders. Can't stand that. Otherwise, I may not have changed clothes all day. We'll, at least I did go work out.... I'll give myself credit for that.
Restless, bored, and don't want to work. That's the state of things today.
Luckily, the weekend looks light.... so maybe some movies and knitting will hold me over. What I could really use is a nice rainy day and a day of knitting while watching Gone With The Wind with the girlies. Now, that's a perfect day.
But, looking at the weather.... that's not likely to happen. For some reason, we need a rainy day to do Gone With The Wind justice....
So, yeah.... Starsky is still coming along. I've finished the left front - now just the right front, a big ol' shawl collar and an absurdly long belt to go. Hmmm, I'm not thinking it's gonna be done in time for Thanksgiving, which was my plan, so I guess I know what knitting I'll be brining along!
So.... instead of boring you with more boring brown Starsky pictures (although, I gotta say.... I'm LOVING it, especially the yarn), I thought I'd talk about two great bloggers.
First, is Theresa from
Knitting Underway.
I love this girl! She was my inspiration behind Count Your Socks. Get this - she just recently finished her 100th pair of socks!!!
100 pairs of socks
! And get this, she also knits gorgeous sweaters and does amazing lace work... but most importantly, she is a doctor and a lieutenant in the Navy, serving as a Navy doctor in San Diego. She's one of my heroes, in knitting and in life. Go check out her blog and peak in as she enjoys her "new California lifestyle!" It's my goal to meet up with her some day. In the meantime - check your mail next week Theresa - there's a little something headed your way.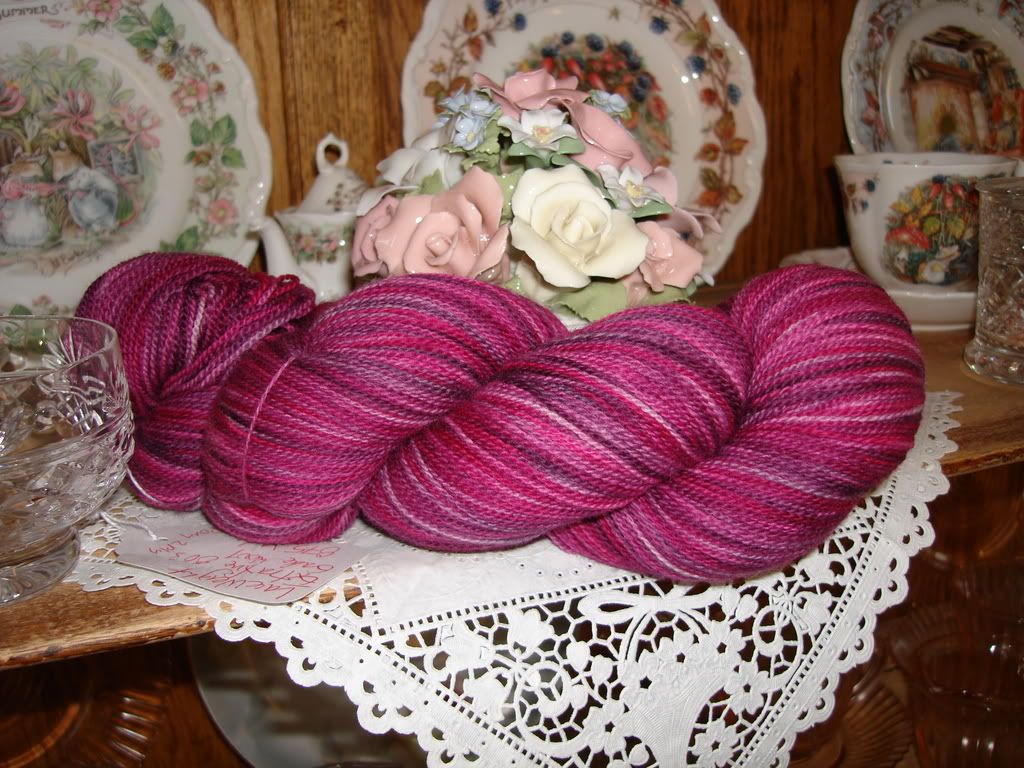 My second favorite blogger of the day is Mary-Kay of
Mamascrapalota-Blogga
. She spins and hand dyes some of the prettiest yarn I have ever seen. She just commissioned Kaity to knit her some wrist warmers, as they are moving this weekend from San Diego to Colorado. She sent Kaity a great package yesterday with some of her hand-dyed roving, and some white roving with packets of Kool-Aid so she could practice dyeing her own roving.... which we did last night! Fun! She also sent along this gorgeous skein of laceweight for me - just because!.... which she also hand-dyed. It is sooooooo pretty - and there's a lot of it! Thanks Mary-Kay :o)
So.... even if I'm completely blog-boring lately, at least I've got friends who arent!