Dam*ed If I Know
Before my grandparents died, they did a lot of world travel. My Grandpa would always take slides instead of pictures, and we'd all gather at my parent's house to watch the slide show and hear about their trip. One trip was especially memorable, and funny, because they had lost Grandma's luggage somewhere (ok, so
now
I know that really
isn't
funny...), and in almost every picture Grandma was in the same purple shirt. Grandma in front of the Taj Mahal, in the purple shirt.... Grandma in front of the pyramids of Giza, in the purple shirt... and our all-time favorite - Grandma on a camel, in the purple shirt. We were just cracking up at the end of the slide show, yelling out "there's Grandma in her purple shirt!" Come to think of it, I'm not sure Grandma was as amused. When we cleaned out their house after Grandpa died we came across that picture of Grandma on the camel.... we laughed and cried, and
everyone
wanted the picture! A family classic.
Another fond memory of their slide shows was that they went so many places, and took so many pictures, and
didn't
take any notes... that half the time they didn't remember what the pictures were of. "Hey Grandpa, where's that castle?" "Damned if I know...", he'd say. "That's a pretty lake, where is that?" "Damned if I know..." We also laughed a lot about that. It's one of those phrases we fondly recite whenever applicable.. and laugh, and remember Grandma and Grandpa, and Grandma in her purple shirt on a camel!
So, I'm thinking of using one of Grandma's buttons for the closure on my Sitcom Chic. (See Sept. 26 post for "Grandma's buttons"). Those are the likely candidates pictured above..... and I'm asking for opinions. The ones on the top are some kind of shell or abalone. The brown one on the bottom right you can't really see well, but it has an art deco-kind of bow in the center. The toggle button on the bottom left is wood. Which would you pick?
I'm gonna do a one-button closure like on the picture below. I need help deciding.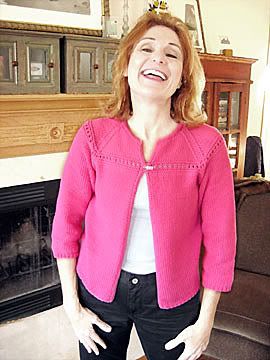 Which button do I like best? Damned if I know.