Designer help?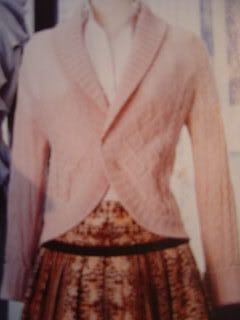 Here's a project for ya'll. I found this in a fashion magazine, and want to make it, real bad. Sorry for the blurry image, but you get the idea. I'm pretty sure I can figure out something for the cables, but need a basic pattern. Have you seen anything close? I was thinking I could tweak Bonne Marie's
Cutaway
, by lenthening it and thereby making the button stance a little lower. If I increased the ribbing around the neck I could make a collar, right?
I'm in no hurry, I've got a couple of other projects in line... but I really love this. The original in the magazine is cashmere blend, and $415! I could screw up a
lot
of cashmere yarn trying to figure this out and never get near $415!
I know some of you who have more experience than I can either point me in the right direction, or tell me I'm just fooling myself, thereby saving me a lot of frustration. I'd appreciate any help/ideas you all might have!