Cameo Appearance
As promised, I finished my
Marilyn's Not-So-Shrunken Cardigan
last night. It's a beautiful sweater, if I do say so myself...
...and here's a close-up of Grandma's buttons and the ruffles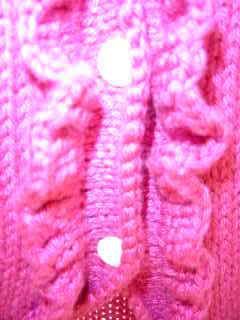 I modified the pattern just slightly - Wendy gives a lot of tips on how to modify it for your tastes and body type.... I made mine about 2" longer, and only put one row of ruffles on each side.
Okay, so I promised a surprise. Here's were I'm gonna make you jealous -and brag a little. Guess who I got to model my new sweater for, on it's debut outing....
Yeppers! That would be me with the designer herself, the one and only Wendy! How cool is that?
My daughter,
Kaity
, turned me on to Wendy's blog a while back, and after we talked back and forth a few times we figured out we live about a half hour away from each other! She asked about my favorite not-so-LYS, and we made plans to meet there for shopping and lunch. Getting to meet and yarn shop with my favorite knitting friend/blogger/designer, going out for lunch, and then just sitting around talking and knitting. Does it get any better than that? I think not.
Here's a pic of Kaity and Wendy
She helped me pick out yarn for my
Ella
, and helped Kaity pick color combos for her new felted bag project. Wendy's as sweet and funny as I'm sure you imagine she is, and we had a great afternoon. What fun! Thanks Wendy!
See..... I told you it was gonna be a good surprise! Now, admit it, aren't you all just a
little
jealous?