My Knitting's Calling Me
I'm supposed to be working.... I'm sitting here, blogging. I work at home, medical transcription. I am sooooo blessed. I work almost full time, but can pick my own schedule, so I get it all done while the kids are in school. I can still take afternoons off for field trips or lunch with a friend. I can play chauffer or drop forgotten lunch money off at school, or go and pick up a sick kid. I have two mornings scheduled to start late so I can go to Bible study. I can sit here in my PJ's or workout clothes...., if you have to work, this is one great job.
However, it
is
a job and I
am
contracted to get so much done a day. Usually I'm on the ball and just get at it and get it done - it's just that some days, like today, I'm
so
restless. I get up to switch the laundry, get yet another drink or snack, check the news, check to see who's posted on their blog, take a picture of the cat, look in the fridge for the 100th time (nothing new shows up), or maybe knit just one more row...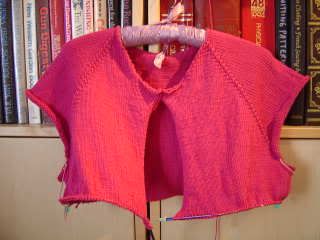 My
Marilyn NSS cardi
is in the other room, and it just won't stop calling me. I'm at the point where I can try it on, and it's fitting, and it's going to be great! I'm thinking I may make it just an inch or two longer than the original, maybe flare it back out ever so slightly - but that's the beauty of top-down knitting, I'll stop when it's right. I'm loving this. How's it looking, Wendy - whatdya think?
Ok - I really should go back to work, the kids will be home soon - then it's impossible to get any work done! Well, maybe first I'll check to see if any of my faves posted. Maybe I'd better try Marilyn on for the 5th time today... Maybe I'll knit just one more row. Marilyn.... stop it, be quiet - I'm supposed to be working!