Blogger Get-Together
To all my Knitting FWB's (Friends With Blogs)
This is an open invitation to all my friends with blogs - my daughter
Kaity
and I would like to have a get-together. We want to do a meet-and-knit, we'll serve lunch, and something chocolate, and we're thinking about some type of gift exchange. Bring your FO's to show off, something to sit-and-knit, and your camera, of course!
PLACE: Our home, Southern Calif
I know that's a little vague, on the place, but for those seriously interested, leave a comment and your email or some way to reach you, and I'll send you more info - I just want to be a little respectful to my family about how much info I put out on the "blogosphere". It should be lots of fun - we'd love to meet some of you! Come on - you know you're curious to meet all of us in "real life." I already feel like I know so many of you! I'm targeting the So. Cal crowd, but hey, if you want to travel... we'd love to have you!
Ok - for some knitting progress - here's Ella so far: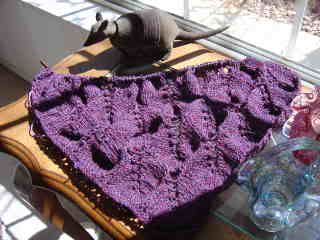 (The armadillo is for Wendy's benefit) Ella's grown to about 16", and she's gonna take a while!!! I'm going to have to think of something else interesting to talk about for then next month - you know how I'm a one-project gal, and it's going to get pretty boring on your end of this blog if I don't. Here's a close up of the pretty colors
Ok - run, go check your calendars, you know you want to! Chocolate........