Motorcycle riding and yarn overs
When I was a kid we used to go motorcycle riding in the desert. We'd load up the family and spend the weekend riding all over the California desert. All day... taking turns with my brother, because we shared a motorcycle. We'd race our friends, ride the same trails over and over, the hills, whoop-de-do's, sand washes. Later, after a night around a desert campfire, we'd fall exhausted into our sleeping bags. And then, I would ride motorcycles all night in my dreams - all night long, the same trails and hills. I'd wake up and it would feel like I hadn't even had a chance to sleep!
So, Saturday night I planned to start my
Ella
. Here's the yarn I finally decided on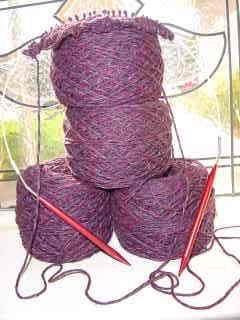 It's a pretty tweedy-purple 2nd Time Cotton, by Knit One-Crochet Two, color #219, Borealis. The kids and I settle in to watch The Shining, the TV version with Stephen Weber (my favorite version) and I figure I've got a few good hours to make a start on this. I don't even really have to pay attention to the movie, because I've seen it before. I just need some background noise, and thought I'd keep the kids company.
Oy, this is my first stab at a real lace pattern... which I now know I'm not good at. About five rows in, my count is off. Rip out and start over. Then maybe I'd get to eight rows, rip out and start over. Sometimes I'd get about 15 or 16 rows in..... ahhhhhh!!!!!, rip out and start over. Let me tell you, The Shining is one looooong movie, 4-1/2 hrs, and this is what I had to show for it at about 11:30 PM when the movie was over: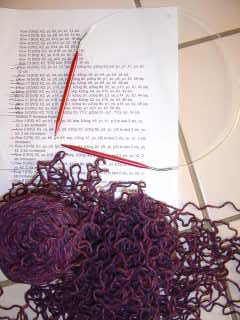 No kidding - nothing on the needles - I had ripped it all out again.
So, I'm exhausted and frustrated, and fall into bed.... and dream ALL NIGHT LONG about starting and restarting, ripping and re-ripping Ella. Let's just say I was NOT rested in the morning.
Well, I'm nothing if not stubborn. So, Sunday afternoon I sit down again, rested and ready to make a fresh start. Hey - I'm doing it! I'm about 12 rows in, and no mistakes yet! I get this bright idea to thread a "cheater yarn" through all the stitches on the needle, so when I eventually end up having to rip it out, I won't have to rip it ALL out. (I can't ever figure out how to rip out to a point, and then get it all back on the needles.... and with all these yarn overs and K2T TBL's, etc, I'd never get it all back on the needles). So, things are going pretty good, but at about row 18 or so, my count is off. I try to fudge it and do a few more rows but, no, it's not happening. So, I rip out to my cheater yarn, and go from there, feeling pretty smart that I thought of the cheater yarn. I wish I was smart enough to recognize the pattern as I'm knitting it, so I know when something's not right, but I probably won't have that down until about the last row.
So, look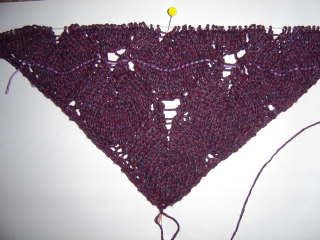 A whole Sunday afternoon's work, and it's not right. See that second row of yarn overs, with the cheater yarn running through them, how they seem to wander off to the right? Heaven's to Betsy. I can't stand it. I tried to tell myself I could live with it and just make it right from that point on, but those mistakes will always haunt me, and I won't be happy. I want it to look like this....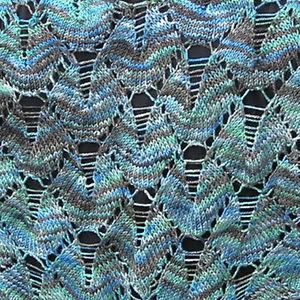 Yeah, right.
So......, sigh...... I ripped it all out
again
. And went to bed, and dreamt of Ella,
again
! This thing is taking on a life of it's own, and it doesn't like me! However... I'm sure it's me, not the pattern, so don't let me discourage others. This is my first time with lace, and I'm a slow learner!
I refuse to be beat. I'm going to take the day off from Ella, and maybe try again tonight. First, I have to reprint the first two pages of directions because I've made so many marks on them I can't tell what's going on. Oh yeah, and I have to cut about three yards off the end of my yarn to get to a point where it's not completely frayed from working and re-working.
So, please check on me tomorrow, same Bat-Time, same Bat-Channel, and make sure I haven't hung myself with the yarn. (I'll leave a suicide note with instructions for Kaity to take a picture for ya'll). And please hope that I don't dream about this thing again all night, I need some rest. Who knows, maybe I'll have something to show for all my work this time!