Ella Enchanting
It's a beauty
I am so happy with how my
Ella
shawl turned out.
I'll be the first to admit - I wasn't sure at first. I almost gave up - well, no, that's not true - I
refused
to give up. This was my first lace piece, and it took me a while to get it right, but once I got the hang of the pattern, it was such fun! It really got to be addicting, and as happy I am that it is finished and I can start using it, I'm going to miss knitting it!
Since I don't "dress up" often - I didn't want something too fancy. I wanted to make Ella a "working shawl," something that I would get a lot of use out of. This is perfect - I can throw it around my shoulders while watching TV (it looks fab lying on the eggplant-colored leather couches), or wear it with my jean jacket and go to the mall... but I can also see dressing it up. The pattern makes it
so
pretty, and the yarn I chose makes it practical.
The yarn I chose was Knit One, Crochet Too's 2nd Time Cotton, color borealis, and I used three hanks. The color is true in the first picture. The yarn splits terribly. I had used it before for another project,
Aibhlinn
, another
Knitty.com
project, and swore I wouldn't use it again because it drove me so crazy... but I guess it's like giving birth... next thing you know, you've forgotten the pain and you're doing it again.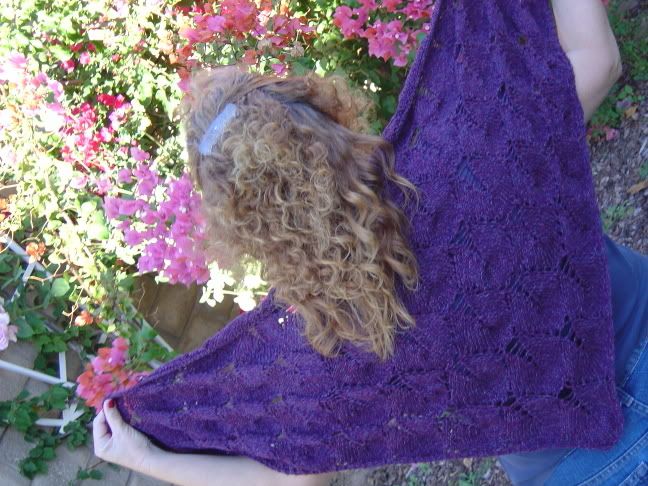 Wendy gives you directions for making a triangular shawl if your prefer, which is the style I made. The pattern was very easy to follow, but you do have to pay attention - but like I said, it's a very fun and addicting pattern to knit. I can easily see myself making this again so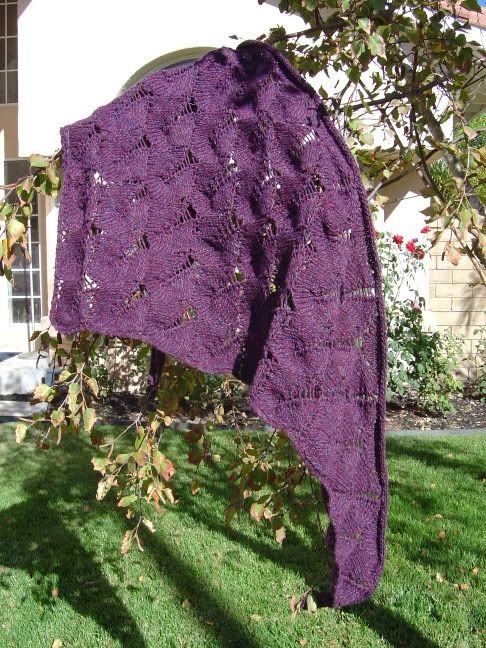 meday.
Ella is very enchanting, and mine is somewhat of a chameleon. The true color is as in the pictures at the top of the page and at right, but in the sunlight it is a little more blue, and in the evenings when I was working on it it would look almost brown (see the picture in the "blocking post" below). Maybe it's because it has all those flecks of color in it and they just pick up on their surroundings - or maybe she's really enchanted!