The Happiest Place on Earth
Ok - we really do think it is. We had a wonderful day yesterday- great weather, overcast so it wasn't hot, NO lines.... we never waited over five minutes to get on any ride.... and great company - we met up with my sister and her family (they love Disneyland even more than we do, go every year, and were on day 3 of a 4-day stay!). Here's a picture of me and the kids at California Adventure. The hubby didn't get to come - had to work, but - truth be told, he doesn't "do crowds" and Disneyland isn't his idea of a fun day. Oh well, we missed him, but he was probably happier at work! That's Kaity on the left, daughter #2, me, and our son.
No, I'm not wearing my Sitcom Chic as you can see.... at about 11:30 the night before I still had about two hours to go, and since I knew I would be braving the HORRIBLE L.A. rush hour traffic the next morning, and having to drive home LATE after a BIG day - I figured my time would be better spent getting a good night's sleep.
Here's a picture of our whole gang heading towards "Main Street USA" in Disneyland, and a picture of the lagoon at California Adventure.
I gotta say.....we rode EVERYTHING we wanted to and wore ourselves out. Since we live in So. Calif, this was the kids fourth or fifth trip there- but Kaity had never rode anything more adventurous than Dumbo's Flying Elephants before... so for us it was great watching her be brave and actually ride ALL the rides... She finally figured out how fun it is to be scared out of your wits and yell your head off on a roller coaster!
The only low point of the day was daughter #2 got dissed by Pooh. I tell ya - it's a sad thing watching a 16-year old running after her favorite character (she has loved Pooh forever), yelling "Pooh! Pooh! Wait! Come back! I want a picture with you...!" Really, I think he just didn't see or hear her, but it was sad.
Oh- and here's a picture of the great knitting bag the kids chipped in together for and bought me. How great are they! It really was a fun day, watching them enjoy each other's company, buy things for each other, and encourage eac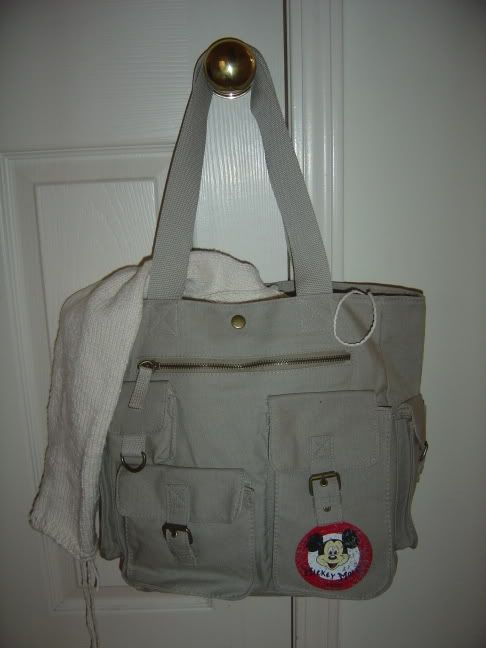 h other to be brave on the rides.
Now, back to the real world. School, work.... although it was kind of fun yesterday morning calling the girl's school, while standing in line at the entrance to the park, telling Attendance that they wouldn't be in school today because they were "attending a family function." I hope they couldn't hear the Disney music playing in the background. Hey - everyone needs to play hooky every once in awhile.