Yarny Goodness
Oooooh, look, look, look at the yarny goodness!!! Okay, you've probably already seen this beautiful yarn on
Heather's blog
, but now it's mine and so I'm showing it off! She sent it to me because she's just SO COOL like that, because I gushed over how pretty it was. It's even unbelieveably prettier in real life! She spun it herself - I'm not worthy. Thank you Heather! (She should probably check
her
mailbox later next week.... just saying, something fun might show up...)
I'm thinking this yarn might end up as stripes in a sweater... but I'm not sure yet. For now, it will live on my messy desk - so that as I'm working I can look at it, and stop and pet it from time to time. I'm taking it on a field trip to my not-so-local yarn store today to pick out something likely to go with it, so I can swatch around with it this weekend. I don't know though.... this might be one of those yarns you can't bear to wind out of it's hank and actually use.... I might just have to look at it a while longer.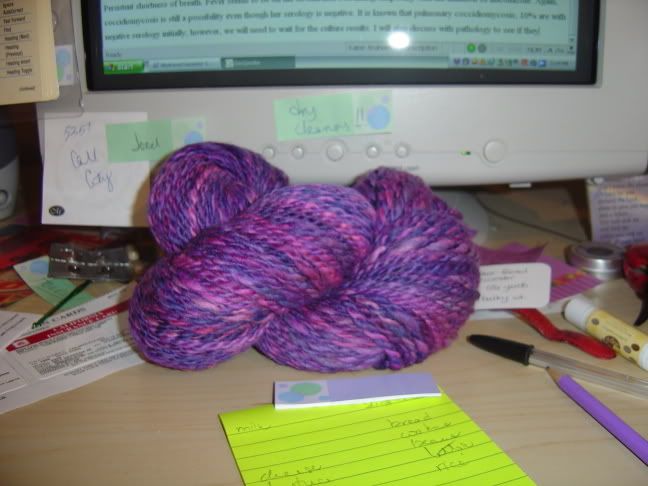 In other knitting news - lookie what I learned last night, thanks to
Kaity
- and her just saying... "Mom, trust me, you don't have to understand it, just do what I say..."
My second sleeve - knit on two circulars. Ok - now I know, for knitting purists, to knit one sleeve on wood DPN's and then to knit the next sleeve on two metal circs is just asking for problems with gauge, etc. Gauge smage.... I'm going for it. Doesn't make me twitch in the least. I'm so bored with these cream-colored sleeves at this point.... Ok, if it comes back to bite me on the butt... if they turn out weird, I'll just have to walk around alot and stand so that you can't see both of my arms at once. You know, a moving target. Besides, no one should be looking that closely, right?
It does seem to go faster this way - or perhaps it's all in my mind - kind of a knitting placebo - don't care. And yes, I made the long sleeve, didn't give into the 3/4.