I am SO not tangy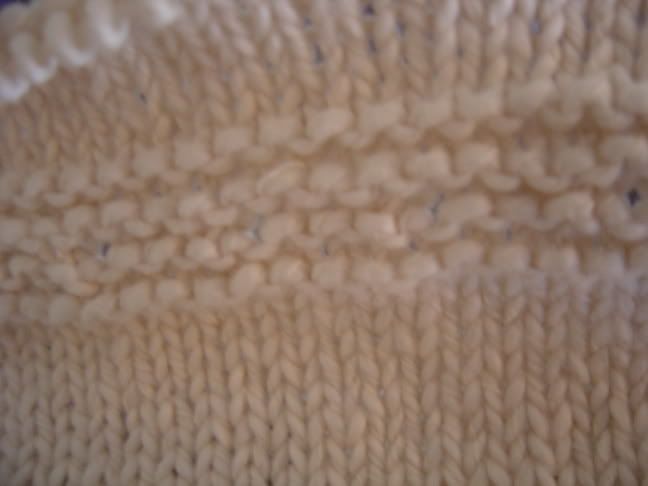 Oy - I am a knitting moron. My
Sitcom Chic
pattern is "Tangy." Theorhetically, at this point I should be able to handle this. I made "
Ella
," and she was Tangy. Somehow Ella even looks like the picture... yarn-overs included... Except I just now find out I've been doing my yarn-overs all wrong. Come on - any bonehead can do a yarn-over.....
How in the world did I make an entire "Ella," and just now find out I've been doing my yarn-overs wrong? I knew I hated yarn-overs.
Look at this little close-up of the "eyelet detail" on my Sitcom Chic.... the holes should be very obvious - not!
Or this one....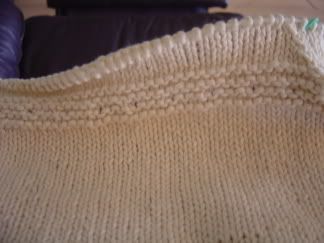 yeah.... I can hear you saying, "What eyelet detail?"
I'm knitting along, thinking, "Where are my little holes?, and why are my little holes soooo little? - Maybe it's just this yarn...." I mean, Ella was full of holes, looking like they were supposed to.... so I must be doing it right.
Of course, my resident expert, Kaity, is at school and I can't exactly yank her out of class because I have a knitting emergency.... so she gets home and I consult with her and - yep, I've been doing them all wrong. What the.....?!
Of course - I'm now way post the point of frogging this thing. I refuse to go back - and it's NOT just because I want to wear it tomorrow.... actually, when I started it with this particular yarn, I wasn't even sure I wanted the eyelets - and I'm NOT just saying that! Really!
So, I'm gonna carry on, and later if I really want one with eyelets, I'll just make another. Yeah - that's likely.