And They're Off!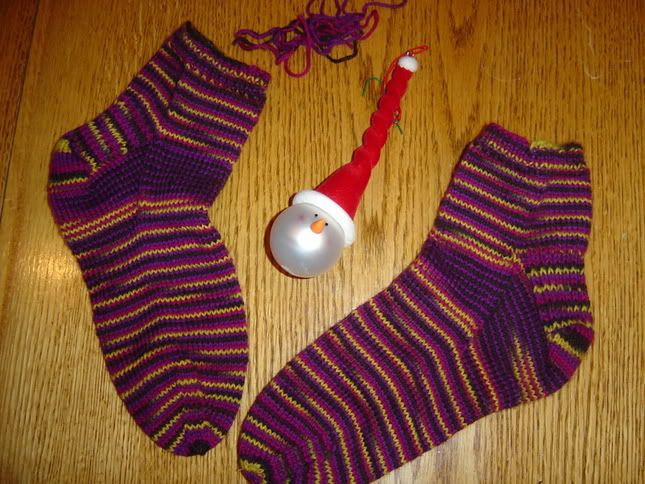 I mailed off my "
Holiday Sox Exchange
" socks today. I hope the recipient likes them. I was very happy with them. These are the nicest (read, no mistakes) socks I've made yet!
Love that
Sock Garden
yarn. This colorway is Pansy. I made not-quite-"shortie" socks, and these only took one skein - minus the 3-1/2 feet of yarn you see left at the top of the page. Couldn't have called that much closer! I do have another skein I could have broken into, but now that means socks for me too! Score!
I haven't ventured into fancy sock knitting yet, and didn't feel a project with a deadline was the time to do it, or learn something new, but I'm thinking my next socks will be the
Jaywalker
socks everyone is making. A little fancy, but still simple enough for trying something new. Cast On!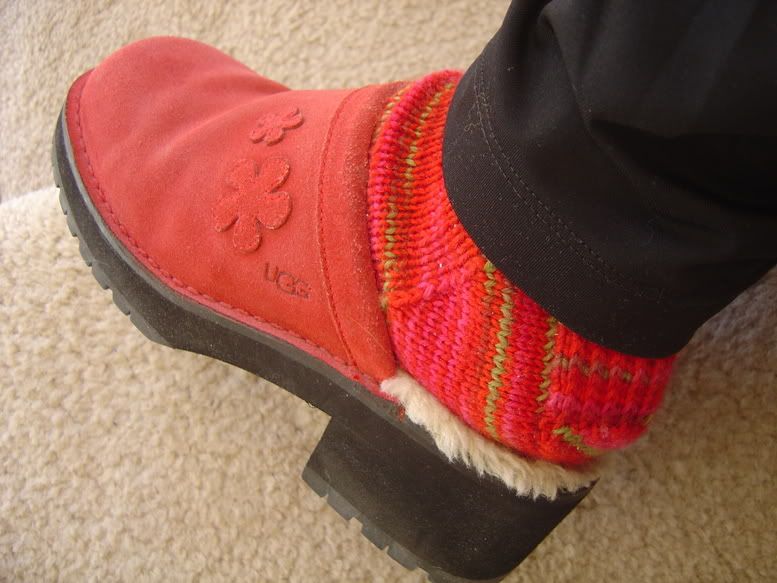 And, hello, how totally fabu do these previous Sock Garden (geranium) socks look with my Ugg clogs??? I know - what an oxymoron, Ugg clogs. Uggs..., warm, ooooh so comfy, you're not supposed to wear them with socks - but the clog factor messes with the warm factor.... my heel is hanging out in the cold if I go no-socks. I spend far too much time thinking about this every time I put them on (yeah, like I'm such a fashion plate!). But, I'm going with the socks - they're just too perfect a match.
I'll leave you with picture of Peanut enjoying the holiday (oh, she looks sweet enough in this pic, in between bouts of eating and yaking up pine needles from the Christmas tree... argh), and another of my favorite Christmas memories. When I was a kid, my sister, Christmashead, and I had bunk beds. I had the top. On Christmas Eve my parents would let my sister sleep up there with me. We'
d anxiously and so excitedly try to fall asleep quickly, before Santa passed us over because we were still awake.
My grandparents (the grandma on the camel grandparents) always joined us for Christmas morning, stockings, and presents. They loved Christmas morning. I remember we were supposed to wait for them before we "started" Christmas. But, it never failed.... I don't care how early we woke up, Grandma and Grandpa would be sitting out there in the driveway in the Cadillac, in the cold, in the dark, waiting for us to wake up. Every Christmas..... first thing, look outside to see if grandma and grandpa were there yet.... they always were. They were great.
Wishing you fond remembrances of all your family holidays.