Sisters
When we were growing up, my sister (aka Christmashead) and I shared a room. My sister is five years younger than I am. That's nothing now... but back when I was, say 8 and she was 3, she was just a pest. Now, she's my best friend, but then.... more of a pesky little sister.
My brother and I used to pick on her, so badly! My brother is only a year-and-half younger than I am, so we'd gang up on her. We used to all go in our room and listen to Peter and the Wolf on our record player(please say some of you remember the big ol' LP's with the books that came with them). Well, we'd all listen to Peter and the Wolf, and then when the scary "wolf music" came on we'd run out of the room and hold the door shut and leave her in there with the scary music 'til she cried. Man, kids can be mean - did we really do that? yeah... we did :(
She also had a favorite baby doll, Angelique (she named her after the character on Dark Shadows, another blast from the past) - one of the plastic dolls where the arms and legs can "accidentally" be popped off. So, we'd pop them off and hide them.
We were all talking about this a few years ago, and she doesn't even remember any of it! (probably horrible repressed memories...), but she just remembers loving her big brother and sister. We've since apologized to her, even though she doesn't remember it. We should be glad she still speaks to us!
Luckily, she still loves me. I don't deserve her.
Well, remember when Kaity taught Christmashead to knit over Thanksgiving weekend? She brought her beautiful finished scarf to "Monday Night Dinner" tonight so we could teach her to bind off. She's finished! It's so pretty! A very nice green, baby alpaca and soft - it's about a 5" wide garter stitch scarf. She's so happy! She's been working on it like crazy, during conference calls, while waiting for kids, and even knitting in public, on airplanes no less! I'm so proud! We have a new knitting convert. I wish I'd had my camera!
So, tonight Christmashead learned to purl. She wants to make another scarf, to keep practicing, and we decided a 4x4 ribbed scarf would be just the thing to do next. So she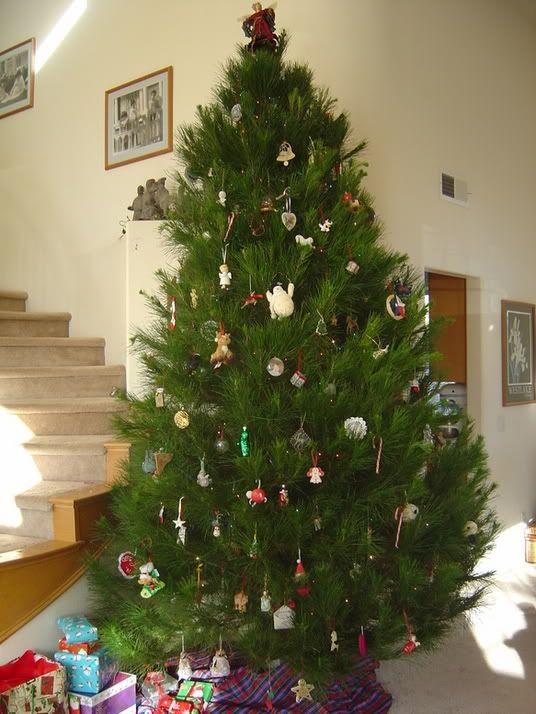 can work on her purling. When I left her tonight she was ribbing away- and off to the LYS soon to pick out something soft and purty for her second scarf.
I'm so proud! Like a big sis SHOULD be. Yes, I'm much nicer now, and appreciate her so much more!
That little sweater Christmas ornament is Kaity's this year. I found it while Christmas shopping a few weeks ago. It seemed just perfect for this year! The year she taught me and Christmashead to knit!