Queen of Denial.... and Why Am I Now Knitting "Cruisewear?"
"26-miles across the sea, Santa Catalina is a-waiting for me...."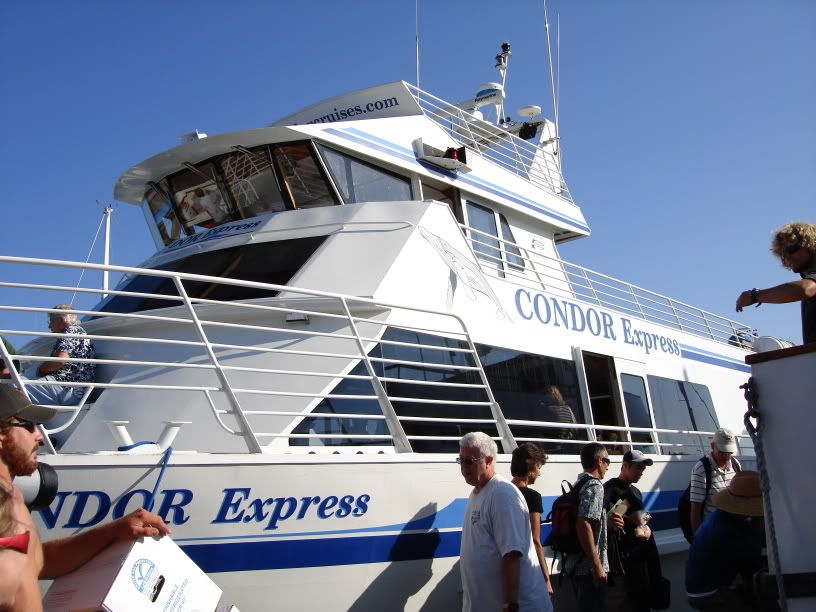 Yeah I fell for that once, 35 years ago or so, and swore NEVER AGAIN was I going on a boat. I.Get.Seasick.
Crapola - I just keep talking myself into stuff. Forward to 2 years married, in Hawaii for vacation, on a sport fishing boat. Sick again.... I tell myself NEVER AGAIN!
Since then I've paddled 30 miles in a canoe - that's okay, canoes are little. I went to a wedding on a party boat in Laughlin - on the river, not to choppy, took my Dramamine... felt like crap, but had just lost weight and was looking good and it was the first time the hubby and I had been away together in a long time..... so it was all good. Didn't warf and embarrass myself.
Forward to last Saturday...... eh. The invitation says "join us aboard the Condor Express as we celebrate 20 years." Apparently the couple whose anniversary it is, took the "old" Condor Express to the islands (Santa Cruz, to be exact) to be married, on the island, 20 years ago. Oy - boat people. If I'm thinking celebration - I am DEFINITELY NOT thinking boat. Well, go figure, he's a lobster fisherman.
So, the hubby says, "it'll be fine - it'll be a harbor cruise, they won't leave the harbor.... you can do it." I call to RSVP and the "groom" says, "we're really looking forward to it- the weather should be great, and we're hoping to make it to the island and back!" Panic now starts to set in. I don't do boats - for more reasons than just the sea-sickness.
Saturday, driving to Santa Barbara, the hubby looks out at the ocean and says, it's pretty rough and windy today - I'm sure we won't be going to the island. You'll be fine.
Yeah right.... these are lobster fishermen... they're not going to let a little wind stop them. Next thing I know, I'm on a boat, headed 19 miles out to an island I CAN'T EVEN SEE.... and once you're committed, there's really no turning back!
Now, to be fair, on the ride over I was feeling fine - believing in the wonders of modern medicine and drugs, and enjoying the trip. It was very choppy, but that's better than the wee-wah floaty stuff that's sure to make me sick. I got to see a pod of dolphins doing their stuff - that was very cool. And, once you could actually SEE the island, it was really very pretty. We cruised the entire length of the island... and then- the.boat.stopped. And floated - you know, that wee-wah get sick kind of floating. While the happy couple looked out at the spot where they were married and reminisced - I was getting greener every second and making note of all available places to puke with the least amount of embarrassment.
LOOOOOONG, miserable story short.... I hung over the rail, in the cold, cold, dark, wraped in my now slightly damp, but beatiful Icarus Shawl, focusing on oil rig after oil rig twinkling in the distance, until I could FINALLY focus on the DISTANT shore.... while I could hear everyone else partying not 5 feet behind me in the cabin, eating, drinking, celebrating and dancing to the live band. HOW do they do that??? I'm feeling so craptastic I'm hoping I live to make it to shore - me and the one other poor seasick lady sharing the rail with me. Boat people - I'll never be one.
NEVER AGAIN - and I mean it this time.
So, why am I casting on for the
Prosperous Plum Tank
the minute UFO August is over? I'm going on a
cruise
in April, remember?
Queen of denial.