Variety is the Spice of Life
Sometimes you just don't know what your missing. You're not looking in the right places - or you're just not seeing it with new eyes.
"Check it out, Bud - Mom's been holding out on us..... look at all these different hot sauces! - I bet she just cruises right by all this good stuff and never even looks."
The hubby and The Bud went to the grocery store with me last weekend. Funny stuff - I tell ya what.
They RARELY go to the store. Maybe a couple of times a year. So, they had no idea what was out there. See..... me, I admit I totally get into a grocery store rut. I buy basically the same stuff, every week. Over and over.
It was such fun to watch them go up and down each aisle as I followed along. I guess they thought that what I brought home every week was all that was out there. But, they saw the stuff I just cruise past. They just kept chucking stuff in the cart. They came up with all kinds of new dinner ideas. And, hey--- when they pick their own cereal, etc, they can't complain about it, right?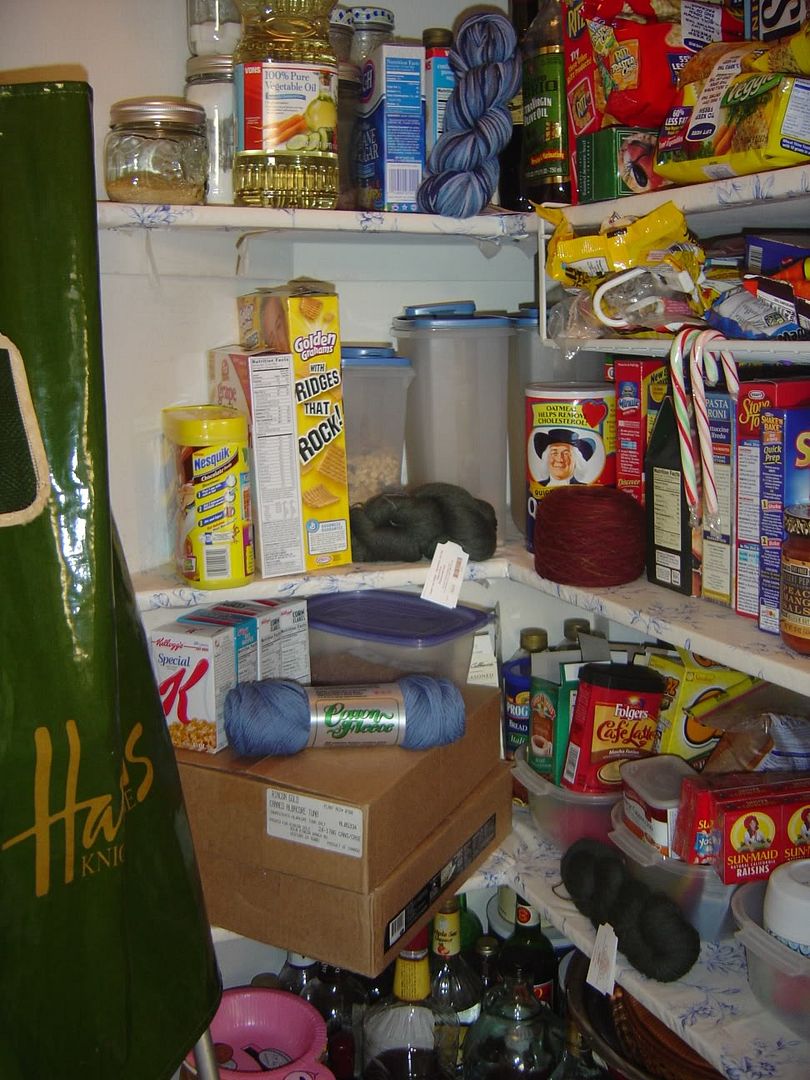 So, now we have a pantry stocked with all kinds of different and new things, and a HUGE grocery bill this week. But it was fun, and it was worth it. It opened my eyes to other possibilities. To look around at the stuff I just cruise by every week.
I was thinking about this in regards to my knitting the other day. I was wondering, if I didn't know about knitting blogs, would I still be so fired up about knitting? Would I still be knitting at all? I mean, if all I ever knew was what was at my LYS, or.... worse yet, Michaels, think about how much I would be missing.
I mean, really, the exciting hot-sauce yarns and patterns aren't what you generally find in the store. Other people have found them somewhere on line, or deep in the depths of knitting blogs - and then they say, "Hey, check this out!" Patterns and yarns I would have walked right by without them being pointed out to me. Websites and yarns I would have never know existed.
Knitting through life with blinders on.... that's no way to go! Thanks to ALL of you who keep broadening my horizons.!