Simple Pleasures
We have a rule at the "Little House" - no TV, no radio, my mom barely allows a clock...
We have cheated a little bit and let the kids take their iPods. It seems a little wrong, but they really don't use them that much up there.
Instead, we knit, we play cards, we sit by the fire pit, we go for walks, we read, the kids go play at the park and the playground. We teach each other to knit, and weave. Check out Kaity's new skills on my mom's portable Ashford loom. And, yes, Kaity now wants a loom, too!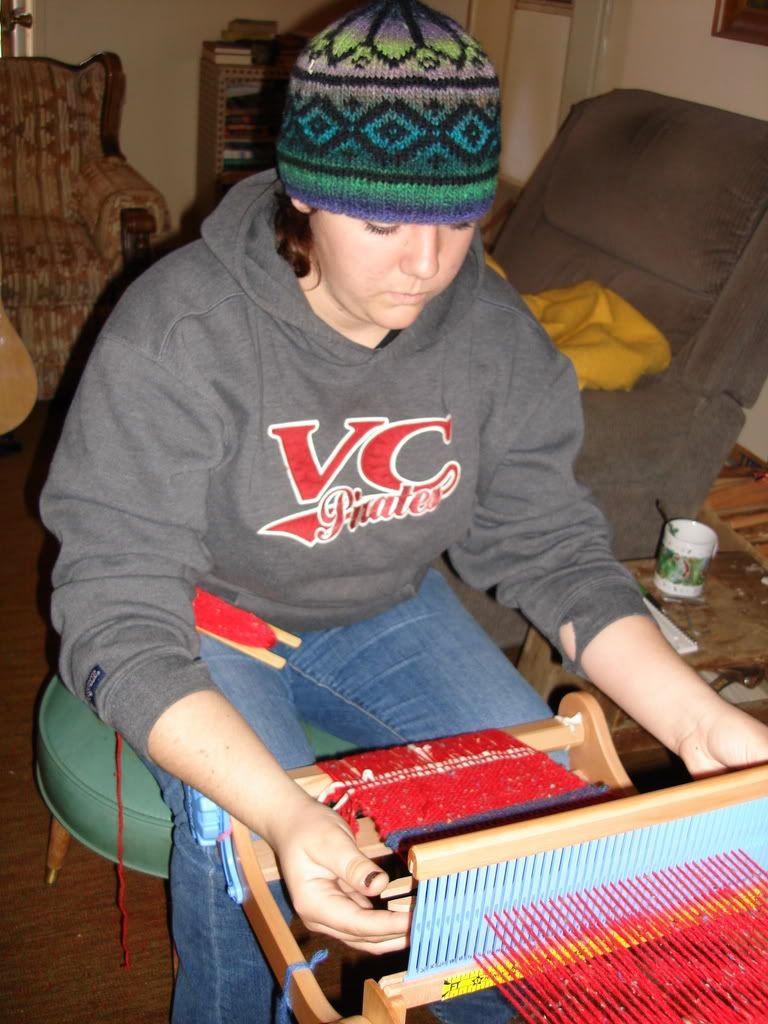 We talk, we play board games, we ride minibikes. In the summer we float down the aqueduct or go to the high school pool. We play in the creek. My dad takes the kids crawdad hunting. We go on jeep trips - to check out the mines, or drive 15 minutes up the to the snow in the Sierras. We go to check out the fish hatchery.
It's amazing how many things we find to do. How much fun we have.
It's amazing how much time we spend NOT doing these things at home. It's kind of sad, really. But, when we're up there, it's not the "real world." It's where we go to escape the real world. I am so thankful we have this place. I am so thankful that my kids love it SO MUCH - and know how to have fun with each other, and the simple pleasures.
But, I can still knit at home. I just have more time to do it at the Little House.
Check out my cool
Fake Fair Isle
hat, modeled by Lily's boyfriend, doing his best "male model" pose. This took me about one day at the Little House last weekend. Who knows how long it would take me at home. Well, I guess we'll fine out, because two of these and a set of hand warmers make up the entirety of my Christmas knitting.
If I could live the "Little House" lifestyle all the time I could get a LOT of knitting done, but I would never want the "Little House" to become the "real world." That would be sad. We need it to stay special - someplace we can't wait to get back to, and don't get to often enough.