The Boyfriend Hat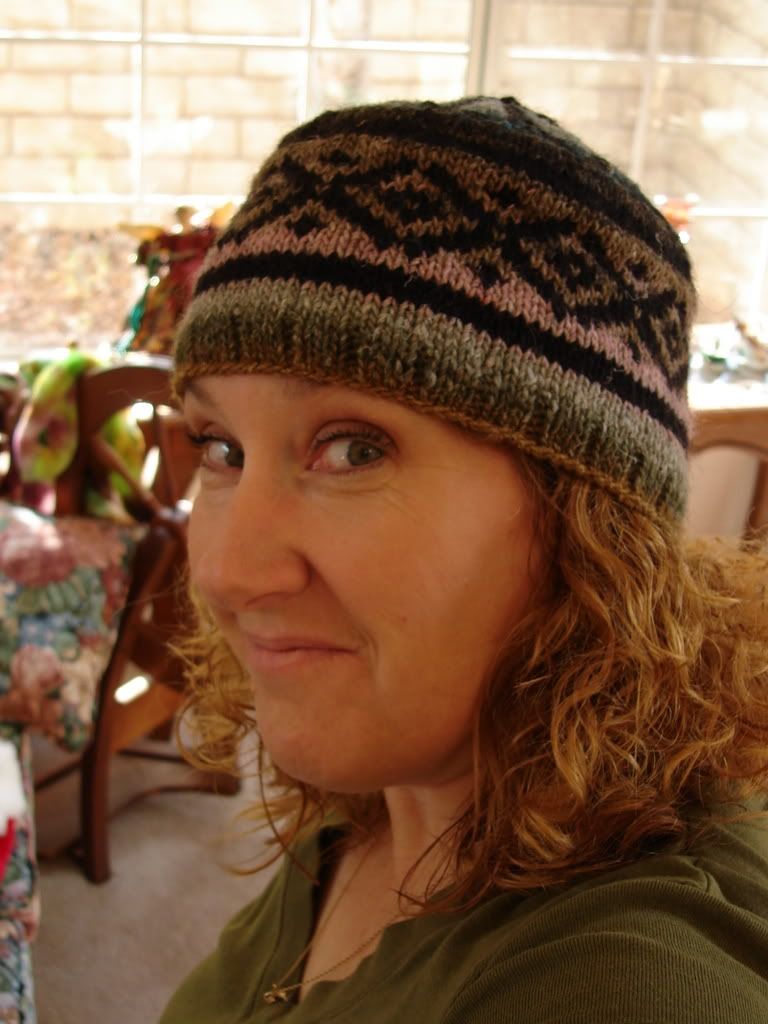 Here's the "boyfriend hat," my second
Fake Isle Hat
- as promised, modeled by moi..... however forgive the early morning, damp hair, bags under the eyes, no make up shot. Well, it's truth in advertising - this is what I'd look like on an early morning walk. And, I guess I AM wearing makeup - it's just yesterday's leftover makeup. Seriously - when I look like this, whether a hat makes me look like a dork should be the least of my worries!
Still - not too bad, hat wise - I may have to make one of these for myself, what do you think? Can I work it? At least for walking around the block on a cold morning?
This one is made from Noro Silk Garden, #249.... which I gotta say - makes a beautiful fabric. It's a little scratchy and rough when knitting it, but sure ends up nice. Gotta love a one-skein project. The "fake isle" part is some black worsted out of my stash - Brown Sheep I think.
I LOVE this pattern.
Tomorrow- another installment in the "Is There A Stylish Way to Keep My Head Warm" saga- I finished my
Calorimetry
. I'm thinking this is a keeper. And, I'm thinking my walking partner needs one for Christmas. Considering you can make it in one night - totally doable.
Get me - cranking out the FO's - I impress myself.