Sneak Peak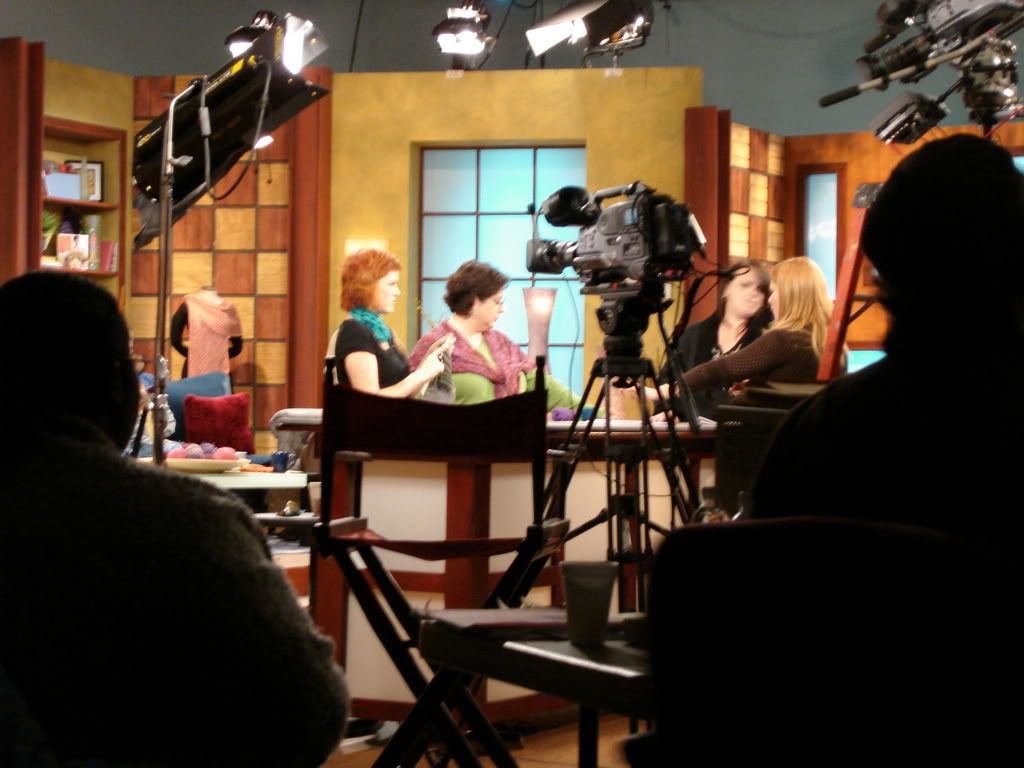 We went to Burbank for Kaity's Knitty Gritty rehearsal today. We had such fun!
While I was standing to the side, watching Kaity rehearse with the producer, someone stood next to me, watching, and when I looked over it was none other than Amy Singer. "Hi, I'm Amy Singer," she says.....
Very nice! She was between segments, taping her Knitty Gritty appearance, and was just wandering around with the rest of us. A bit later, she came and sat on the couch next to me, where I was knitting of course, pulled out her knitting, and turned to me and said, "Is that a Starsky you're wearing? I thought I recognized it. It's lovely!"
Wow! That was very cool! We sat there and chatted a bit while she was waiting to tape the next segment, talking about why anyone in California knits when most of the time it's too warm to wear knitwear. Very fun. I was a little star struck.
When they resumed taping, Kaity was done with rehearsal so we got to go in and watch Amy and Vickie tape the rest of the show. Sorry for the bad picture, but it was very dark in the studio unless you were right on the set. We were sitting right behind the director and production crew so we got to watch how it all happened, and could also see the set. Kaity got an idea of how the actual taping will go on Monday, and she's not a bit nervous. Me - I'd stumble over every word, but she'll do fine. I'm so proud of her!
We didn't get to meet Vickie yet, she was pretty busy, but all that will happen Monday and I'll get lots of pictures. Do the whole stage mom bit. We had such fun today, and it was just rehearsal. Meeting Amy was a total surprise, and just added to the fun - Monday's gonna be a blast! I think I'll wear my Icarus shawl - you never know who you might meet!