Socktober-failure
Okay - remember how I said I was a "one project at a time" kind of person - can't have more than one thing going at once? Well, going against my better judgment and having two projects going at once has come back to bite me in the butt.
I come from a looooong line of "unfinished projecters"... my mom always has lots of things going, my Dad and brother are even worse, because they don't finish stuff most of the time.... but they fully intend to, "some day." I didn't get that, though.... more than one project going at once makes me twitch.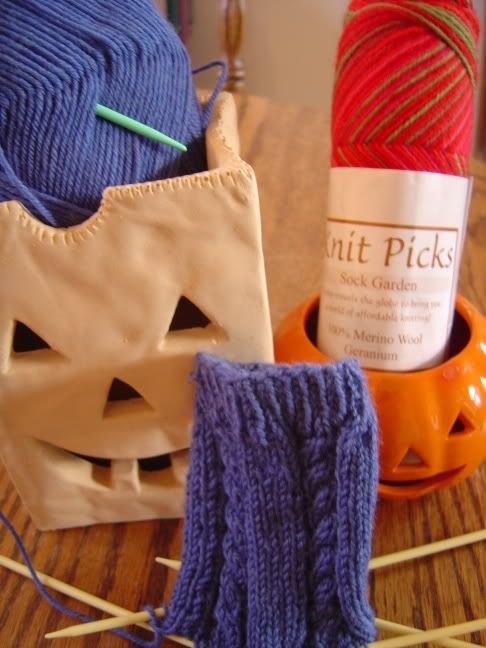 Maybe it's a "crafty people" thing. Like I've said before... I don't think outside the box well, I don't have the "muse," - I don't have a lot of original ideas. I'm a copier. I'm not the "crafty" type.
Now, Kaity, she takes after my mom - supercrafty... and Kaity also has about a million knitting projects going. It makes me crazy - everytime I see her she's casted on for something else. "But... But..., you haven't finished....." She just gives me the "pshhh, I'll finish it." Oh man - I can hardly stand it. It makes me uneasy, I tell ya. Like looking at some of your blogs with the big "on the needles" or "WIP" lists.... with alllllll those unfinished projects - it makes me twitch, and they aren't even MY projects!
Ok, let's face it, I'm probably just jealous.
So, I figured, if I'm going to try and be crafty I oughta lighten up and at least get socks going on the side. Oy.... remember my blue cabled socks I was "making up the pattern" for? Well, I started them about three months ago, back
before
I was a knitting polygamist, fully intending to work on them uniterrupted until they were both finished, so I wasn't writing anything down.... then I got sidetracked and seduced by my Marilyn's Not-So-Shruken cardigan, and Ella, and my Sitcom Chic and, you guessed it, when I picked up the socks last night I couldn't figure out what I was doing.
I tried to figure out the stitch counts - and what would have made the most "sense," and which way the cables fell, front or back.... needless to say... I ended up with a mess, then tried to unknit and got a big knot where the cable was supposd to be - so I gave up and ripped the whole thing out, wound up the yarn, put it back in the cupboard and got out my Sock Garden yarn in that pretty geranium color.
Knitting polygamy - I KNEW it sounded like a bad idea... of course, you know what they say, once you've tried it, you'll never go back. Maybe I can still pull off socks on the side, we'll see. But, I guess I'd better at least learn to write things down, or quit trying to make up my own patterns and go back to basics. I mean, I haven't even been knitting a year - who did I think I was fooling? But, I'm also a glutton for punishment, and I'm determined to make that blue yarn into cabled socks, or maybe some EASY lace design.... later though, after I've practiced my basics a little more.
Oh - and see that nice "ladder" between my needles... yep, I think I need to work on my basics some more... or knit them on two circulars. At this rate I am SO going to be kicked out of Socktoberfest - I hope Lolly isn't looking!