I Promise
I solemnly promise the wonderful knitter that I am knitting sox for, for Ariane's
Holiday Sox Exchange
, that you won't get socks like these...
Okay, from far away (which is thankfully how most people see my feet and socks) they don't look bad, and the yarn really is beautiful. But, I can't say I'd be proud to put my name on them and give them away. Too many mistakes. Maybe because I decided to learn to knit continentally after the first half of the first sock. The second sock, knit entirely continental, is larger as a result. However, by then I had worked out most of the kinks, and there are only about two mistakes. Also, they're a little small, so they really stretch the knit out.... eh.
So, I promise the person I am knitting for.... I will pay attention, I will not knit continentally (don't have my gauge tight enough yet), I will fix all mistakes as soon as I find them, I will knit to gauge, and I will make you my first truly beautiful pair of socks. I'm up for the challenge. I am. I am. (PS, I've been on your blog, and YOU can knit some beautiful socks, so the pressure's on.)
To the person who got my name! LUCKY! You could knit anything and it would be great! The bar is set pretty low in sock world at my house~!
No, no... I've raised the bar, and I look forward to knitting a beautiful pair of socks. I will, just you wait and see.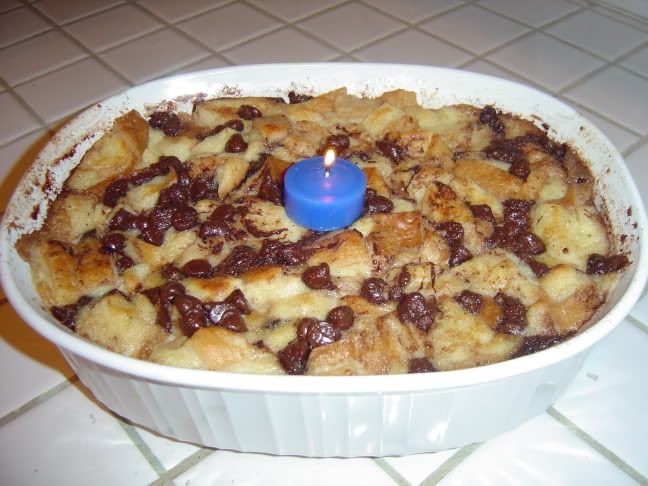 Stop laughing!
And, for
Candsmom
at "bits of knits," here's the bread pudding recipe. Everyone in my family LOVES this. We learned to love it as kids, because it was my dad's favorite - and my sister and I still try to beat each other to the call on Father's Day and his birthday to see who gets to make it for him. All of my kids choose it instead of birthday cake. It's great hot, with a little milk poured on.... and really great cold for breakfast the next morning! Of course, there's probably a million calories per serving, but I don't think calories count in birthday "cake." You know, like broken cookies don't count- you know when they break all the calories fall out!
Oh baby - once you've had bread pudding with chocolate chips instead of raisins, you'll never go back!
CHOCOLATE CHIP BREAD PUDDING
Place 4 cups stale bread crumbs, cubed, in 1-1/2 qt baking dish (I buy the cheapest white bread I can find, for some reason that's the best, and leave it out on the counter all day to get stale) Mix in 1/2 cup chocolate chips.
Blend in separate bowl: 2 cups scalded milk with 1/4 cup butter
1/2 cup sugar
2 eggs, slightly beaten
1/2 tsp. cinnamon
Pour over bread. Place baking dish in a water bath, (I put the casserole dish you see above in a 13x9 with about 1-1/2" hot water) and bake at 350 degrees until done, about 45 minutes, or when set and the top starts to brown.
This is a half recipe - for my family I
always
double it, that way there's enough (barely) left over for someone's breakfast. ENJOY!