Truly Enjoyable Morning
This is one of those rare mornings. The girls have gone off to school, the Bud is not yet up and, the rarest, there is no work. I work at home and log into a dictation system - and I guess the docs didn't talk much this weekend, because there's no work.
It's kind of a rare morning to relax, watch a little bit of the Today Show, spend a little more time on my morning Bible studies and devotions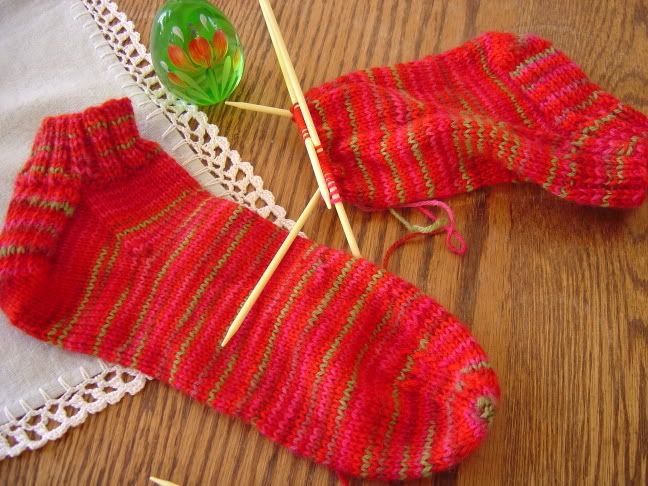 , and knit.
Today is even more special because my firstborn, the Bud, still sleeping up in his room, turns 20 today. 20! How did THAT happen? I'm not that old...... okay, I am.
Just once I'd like someone to have an incredulous look on their face and say, "
you
have a 20-year-old son???" Hmmm, still waiting for that one.
Anyhooo, he'll get to pick his dinner, and we'll have chocolate chip bread pudding instead of cake tonight (all the kids pick that!) - and celebrate the Bud.
So, maybe if work stays slow today I'll finish up these socks. You're probably as tired of looking at them as I am! But, I have to say.... this is the prettiest yarn, and so soft - I really do love it.
FUTURE PROJECTS- I'm still working on my Wendy/Heather sweater, but won't get to my not-so-local yarn store for the rest of the yarn until Wednesday. And.... here's what I think I want to do next - Yarn Harlot's beautiful
Snowdrop Shawl
, and
Rogue
. Maybe I'll really get out of my comfort zone and work on them together. I think they're both going to be challenging - so I can take a break by switching between them. I actually downloaded the shawl pattern and played around with it this weekend to see if I could actually do it.... and I just takes paying attention, it doesn't seem to really be toooo complicated. I think I can do it.
Also, this weekend, look where the hubby and I went hiking with some friends, - what a view, eh?
God is Great!