Wendy/Heather Essential Stripe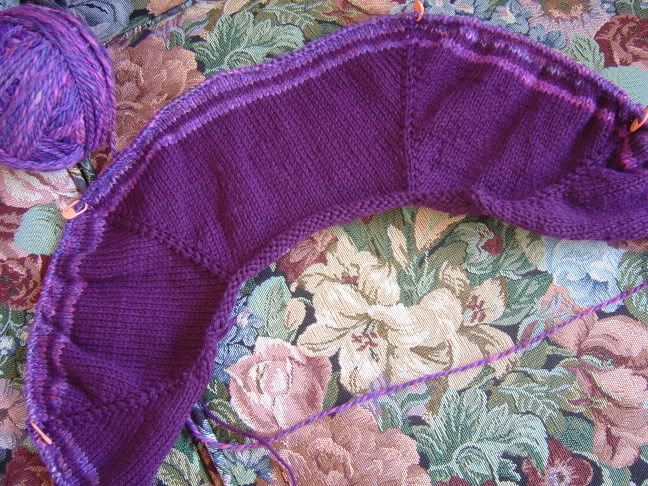 I've started my Wendy/ Heather Essential Stripe sweater! Ooooh - it's gonna be pretty - if I do say so myself, but I'm drawing inspiration from two of the best! I'm using
Wendy's new Essential Stripe
sweater pattern, and the beautiful
yarn
that
Heather
sent me! I figure that's a winning combo - with Wendy's pattern and the beautiful yarn Heather has been spinning recently. Those two are on fire - I couldn't ask for better inspiration/friends! - oy- I hope I do them justice!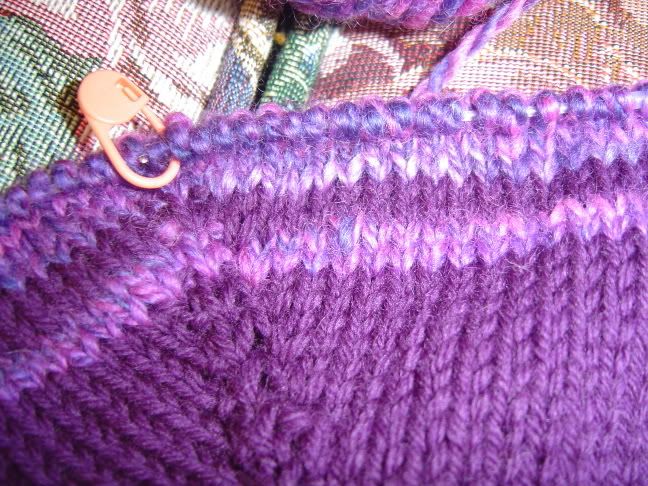 I'm using one of my
favorite
yarns,
Cascade 220
. I LOVE knitting with this yarn! It comes in soooo many colors, which is good, because I haven't picked the color for the body of the sweater yet! I know.... living on the edge. What you see in the very first picture is from the neck down, dark purple, then a small "Heather" stripe, another small dark purple stripe, then there will be about an 1-1/2" "Heather" stripe- then the rest of the body will be solid, in a purple just slightly lighter than the first solid? Make sense? Sound okay? Well, guess it would help if I hadn't taken the pictures upside-down... but you get the idea. It kind of looks like a ski sweater in my mind - but my mind's a scary place.... so we'll see!
So - it's off to my not-so-local yarn store this weekend. Luckily they have a lot of Cascade 220 in stock. I'll let you know what I come up with - same bat time, same bat channel....