A Shawl Is Born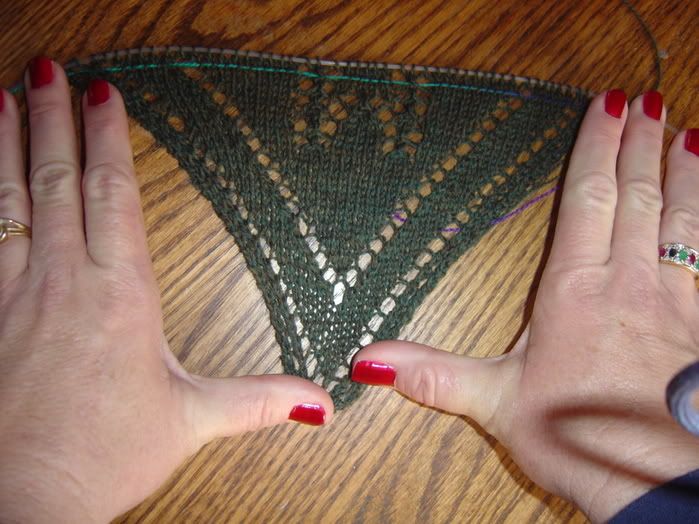 What a nice weekend. This was one of those great weekends where I got a lot accomplished, knitting and otherwise. The hubby was gone all day Saturday, so I got up early with him to get the coffee made and send him off. Then, I did some bookkeeping I've been neglecting and did my Christmas cookie and candy baking. Then, about 10:00 the kids woke up and the girls helped me with the housework. After that I was "chore free" and we made a fire (it was a great, COLD, crisp day), watched movies, knit, worked on a Christmas gift project, and finally got the snowflakes made for the window.
I told myself I could put Branching Out on the back burner and spend the whole weekend trying to get my Snowdrop Shawl started. I have never knit with lace weight yarn before, and it took a little getting used to, but I'm finding it very satisfying!
I made quite a bit of progress Saturday night in front of a fire and "The Sound of Music." Talk about a perfect setting for knitting! I had to frog the first few attempts, but it helped me get the pattern in my mind, doing it over and over again...., then I finally remembered to put in a lifeline. Of course, after that I never needed it! Still - it's in there, and I keep moving it up every 10 rows or so..... I don't trust myself!
So, after a full weekend the above is the beginning of my Snowdrop Shawl. I'm using KnitPicks Shadow, in the Lost Lake color. This may take me a lifetime, but, hey - I'm in no hurry. I plan to live a while longer yet.
Today, it's back to the real world, back to work, and back to Branching Out. I still hope to finish it in time to give it away to a dear friend for Christmas. But, no pressure. I've got a back-up gift if I don't finish it in time, and then I've got her birthday covered!
And, I must say, I knit a few rows on it last night while we had "forced family viewing" (aka, family movie night), watching one of our all-time favorites, "O Brother, Where Art Thou." (okay, you have to ignore the language in a few places, but it's gotta be one of the funniest movies ever - you know, the kind that gets better with every viewing) - and knitting on Branching Out seems like a cake walk now compared to knitting and struggling with the shawl all weekend!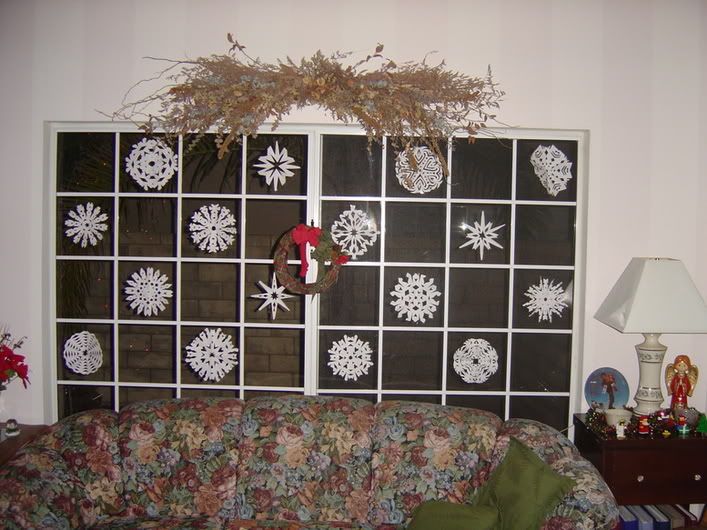 Today I'm just looking forward to beginning this last week before Christmas, finishing up some shopping, spending time with the kids now that they're on break, more baking, more knitting, and today I'm bringing the hubby lunch. I think it's this cold snap we're having. There's nothing like a fire and bundling up in hand knit scarves to make me feel all happy and homey.
Watch, it'll heat up by the end of the week and we'll have an 80 degree Christmas, which is more the norm around here.... I hope it stays cold!!!