Pushing the Fashion Envelope
One of my goals for the new year is to step up my everyday attire a notch.
When I was shopping the outlets with my daughters and MIL in Texas, I bought a beautiful silk twinset, and a great winter white quilted vest lined with fur. I was knitting Sizzle, and bought yarn for Eiffel.
I thought to myself - what am I doing? Where am I ever gonna wear all this stuff? I'm casual, everyone I know is casual, my church is casual.... I hang with a jeans-and-t-shirt crowd, and sit in my own little office in my house and type most of the day....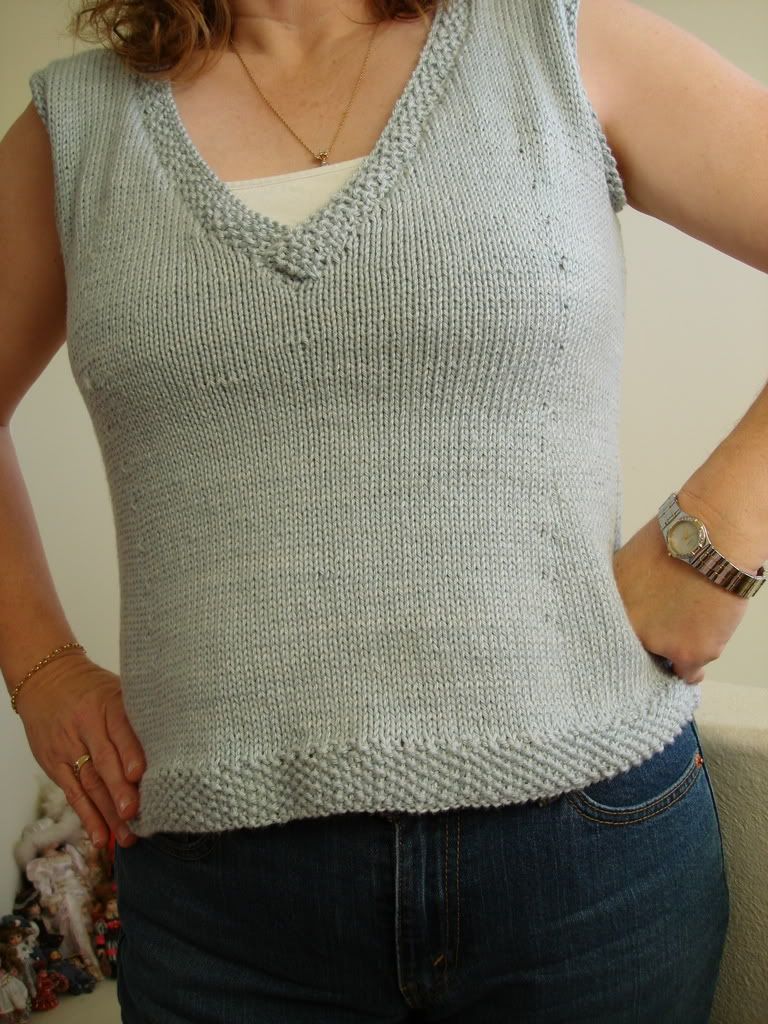 I don't dress up much.
But I could. Why not? Why not put on a nice fitting pair of jeans or slacks and maybe this.... just because I want to. Just because it makes me feel good.
So what if it makes the kids nervous if I put on anything other than jeans and my Cons, or Vans.... or worse, my Crocs. "Where are you going?" Even my hubby will ask, "What did you do today?" Oy, I've set a VERY casual precedent for myself.
My goal this year is to kick it up a notch. Dress up more for church and Bible study. Get out of the Old Navy T's more often, even for just hanging around the house. I'm gonna take better care of myself. I'm worth it.
It's amazing how lazy I get with my appearance when I'm not happy with my weight... but now that some of the pounds are coming off it's just as amazing how quickly I remember that I LIKE clothes, and looking nice, instead of "just getting dressed" every morning. Even if it's casual, I still put a little more thought into it.
The kids will get used to it. The hubby will like it. And it opens a whole new world of knitting. I'm pretty excited! And you get to come along for the ride :o)
Pattern:
Sizzle
. Great pattern, quick knit!!
Yarn: KnitPicks Shine Worsted in Sea Spray (not thrilled with the yarn, unevenly spun, with uneven color, and even unattractive slubs of fluff), approximately 750 yards.
Size: Medium, although it's a little big (get me!, even I'm surprised with that).
And, although the kids can deal with me dressing up, Kaity's first words on seeing this were, "Mom, I'm not comfortable with that much cleavage." - So, yes, it's an amazing and sexy low neckline, but I'll probably be wearing it with the camisole. I can only push the envelope so far, so fast.