Christmas Knitting Finished!!!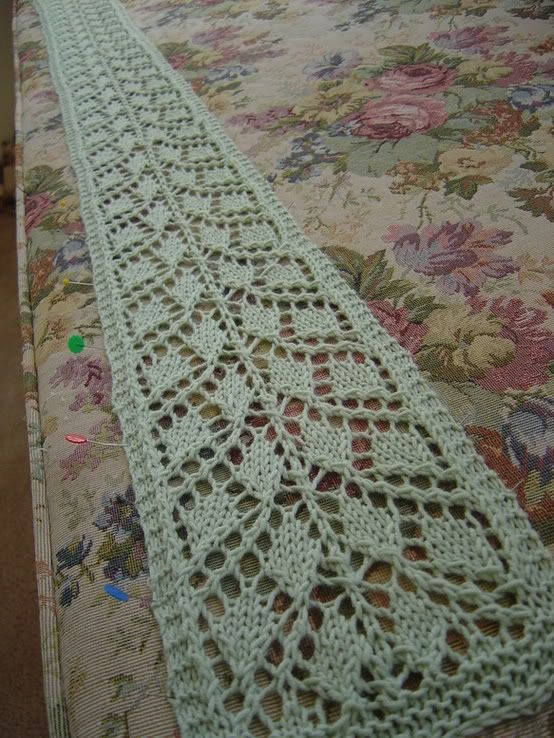 I finished my Christmas Knitting!!! Of course, this is the only thing Christmas knitting I did.... and even that was not planned. I totally planned to make this scarf for myself. I know..... get me, giving away my knitting! There's a first time for everything. I'm a totally selfish knitter.... me, me, me.
But I wanted to do something special for this friend, and I thought she'd really appreciate it (she did.... I'm NOT patient and made her open it right away). Yep.... in less than 12 hours I finished it, blocked it, wrapped it, gave it away.... and saw it on the recipient's neck. Instant gratification - that's what I'm talking about!
And I loved making this enough I can see knitting this pattern again. I know - a day of firsts. Usually, I'm so darned bored of something by the time I finally finish it I would never knit it again. But, I'm pretty sure I'll do this again.
I REALLY love this pattern. I mean - come on.... take a gander.... you've gotta admit, it's gorgeous.
And I'd really love one for myself. You know- me, me, me.
Pattern:
Branching Out
Yarn: Debbie Bliss Baby Cashmerino, color 03 (mint); 1-3/4 balls
Did I mention I
love
this pattern... yep - fun to knit, and easy enough to take in the car for short knitting bursts without totally getting lost as to where I am in the pattern.
Can you tell I'm so happy with it I can hardly stand it. I miss it already. Good thing my friend lives about two minutes away... I can go visit it.
Knitting lace - I think I'm hooked.