Oh What Fun!
I have the best
Sox Exchange
elf ever!! Lookie what the mail lady delivered yesterday!!! It was a race to the door because Kaity and I have both sent off our Sox Exchange socks and have been waiting excitedly to see who was knitting for us! (Sorry Kaity, maybe yours will come today!)
My Sox Exchange elf was none other than
Julia Vesper
!! All together now...."LUCKY!!!"
Look at my beautiful socks! She knit these with yarn especially dyed for me, and a beautiful lace pattern of her own. They're so pretty. I love them, and they're a perfect fit!
I feel special!
She send the cutest box filled with not only my beautiful Sox Exchange socks, but other goodies. A box of chocolates, some beautiful Vesper Sock Yarn in the Knit and Tonic colorway...., and the cutest buttons with my blog name on them!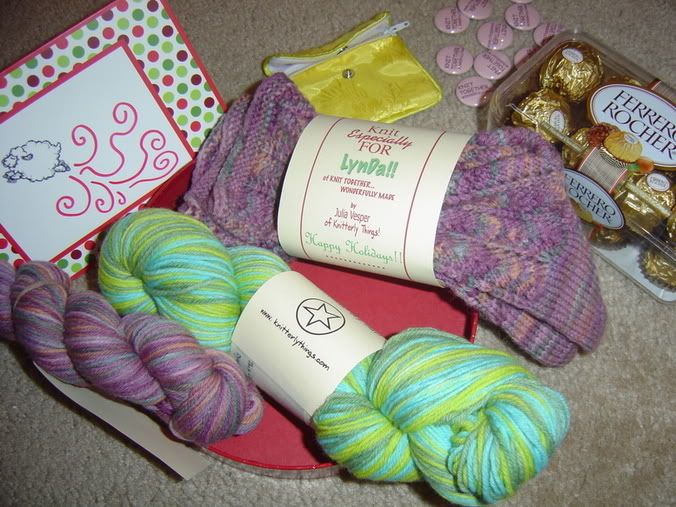 Thank you sooo much Julia! It was all very thoughtful, and a fun and beautiful gift to open... and I LOVE my socks. Thanks also to Ariane for coming up with such a great idea!
And - more Christmas goodies from wonderful bloggers - look at the pretty ornament my friend Lynne sent me.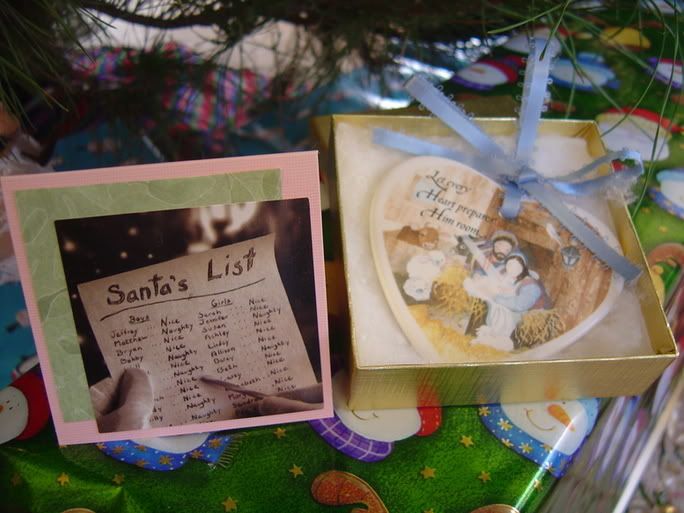 It's already on the tree. Knitters are the best and I am blessed!!