A Day In The Life of Black Purl
Actually, this is NOT a typical day. On a typical day, this would be the life of Black Purl (or whatever the current WIP happens to be).... sitting in the other room while I work, hoping desperately for maybe an hour of knitting later on that night.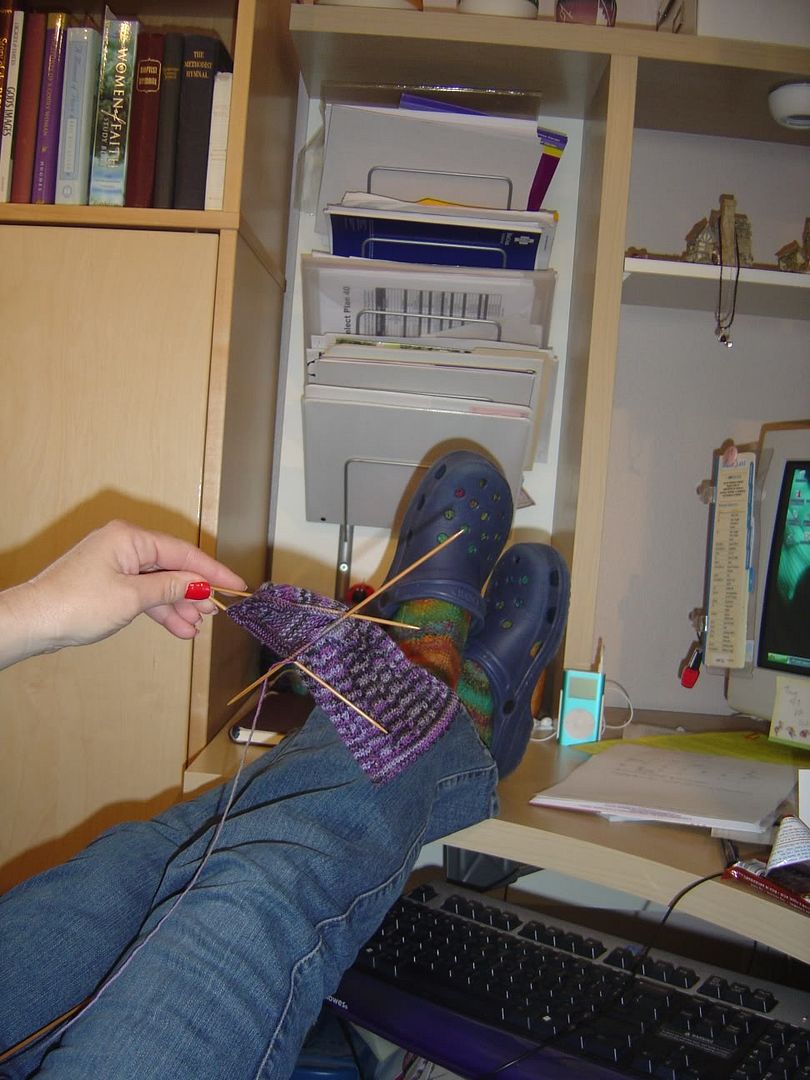 However, Tuesday is my "day off" - and since part of my day off will be spent getting one of the cars in our "fleet" smogged, and running various other errands, I figured I'd bring the sock along in hopes of sneaking in a row or two while I wait. Let's just see how much progress we can make.
However, first my "day off" started with an 8:00 AM conference call for work.... how is this a day off? I don't know either. But I
can
knit and talk at the same time, and in this case even get paid for it, so it's all good.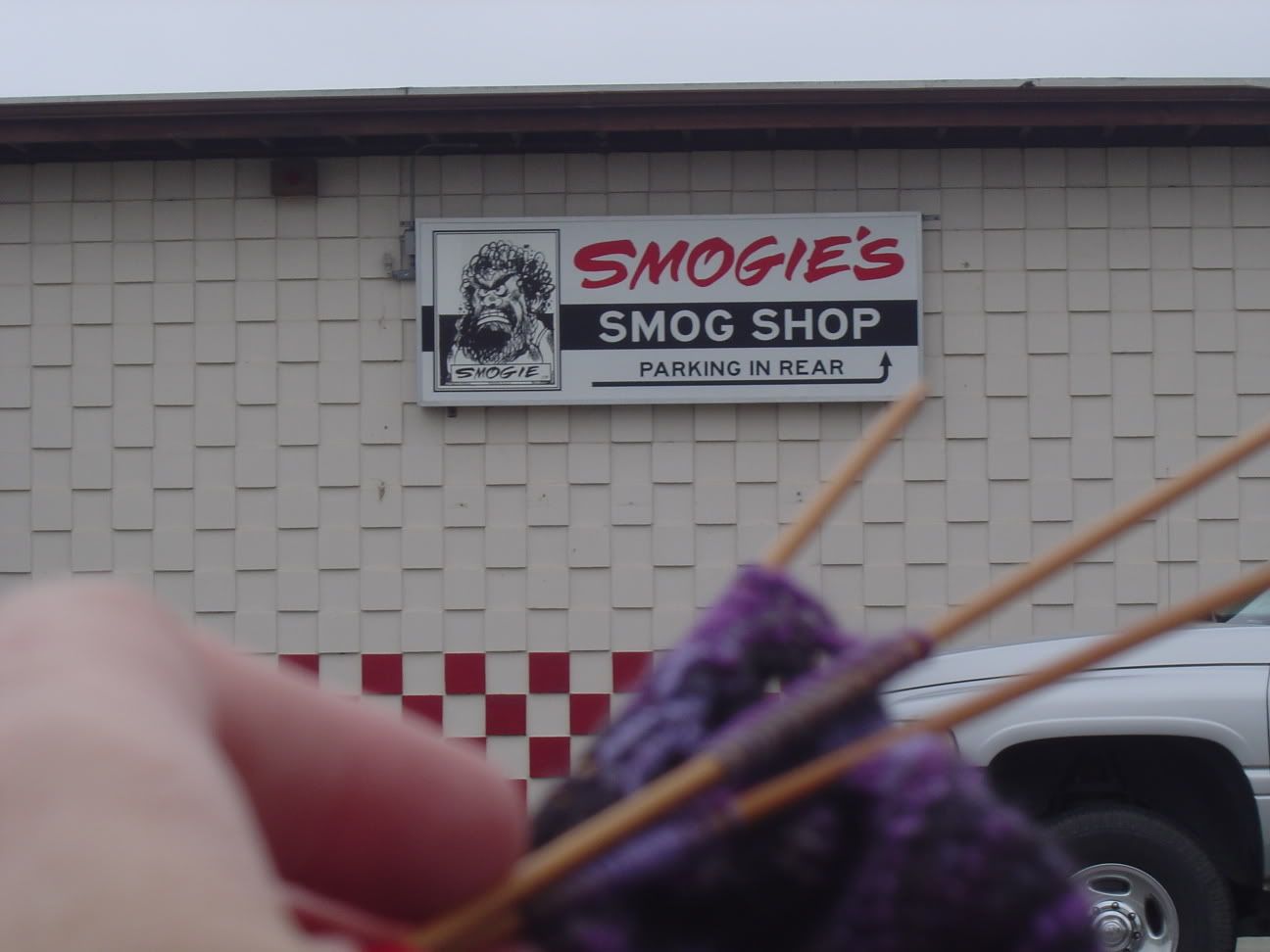 Off to town. Here we are at "Smogies." I'm being very careful. The last time I brought a WIP into a car-related business I got grease on my Sitcom Chic while having a flat fixed on the bug. Note to self, do not bring white or cream-colored WIP's near an auto-repair-ish establishment. Gotta love Smogies, though - they smog your car, and process the DMV paperwork for you, so you walk out with your renewed registration and license plate sticker. Score!
Well, wouldn't you know..... not half a mile from the smog plac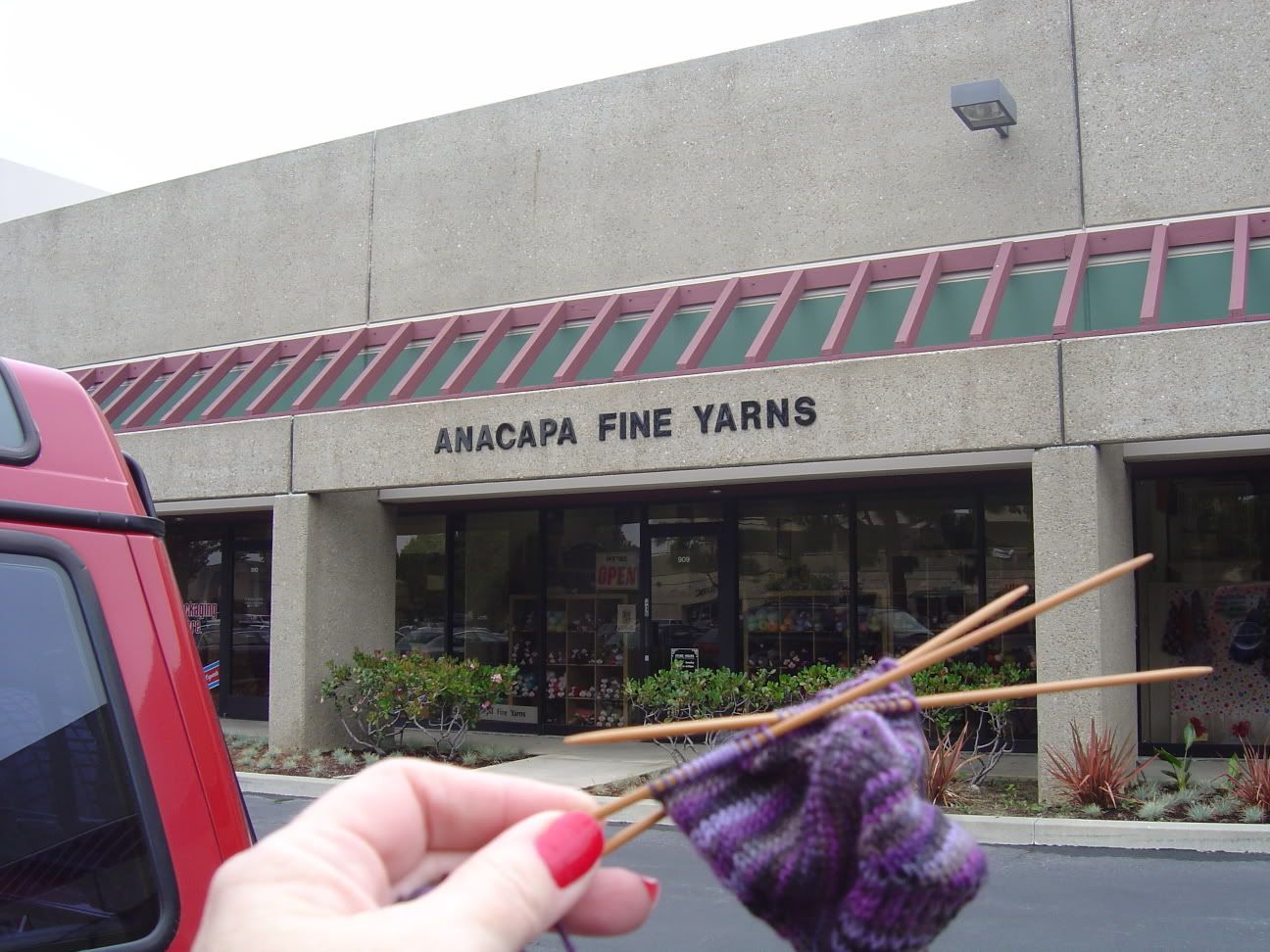 e happens to be my favorite not-so-local yarn store..... we
must
stop by for a visit. Hey Purl, remember this place, when you were nothing but a lovely skein of yarn and a gleam in my eye??? We don't need any yarn today, but I bet they have the new IK! (they didn't, and I actually came away without ANY new yarn!)
Yes Purl, I know we drive right past McDonalds, and YES, I can smell the fries. T
hanks for pointing it out.... like I needed that. No, we can't drive thru - I'm getting healthy, remember. We
do
have to go to Trader Joes, maybe we'll pick up something healthy there. Maybe a lovely piece of fruit. And there's always Lean Cuisine at home. (ok, in reality, this conversation went on for about an hour. I'm proud to say I won in the end.... but it was really touch-and-go for awhile!)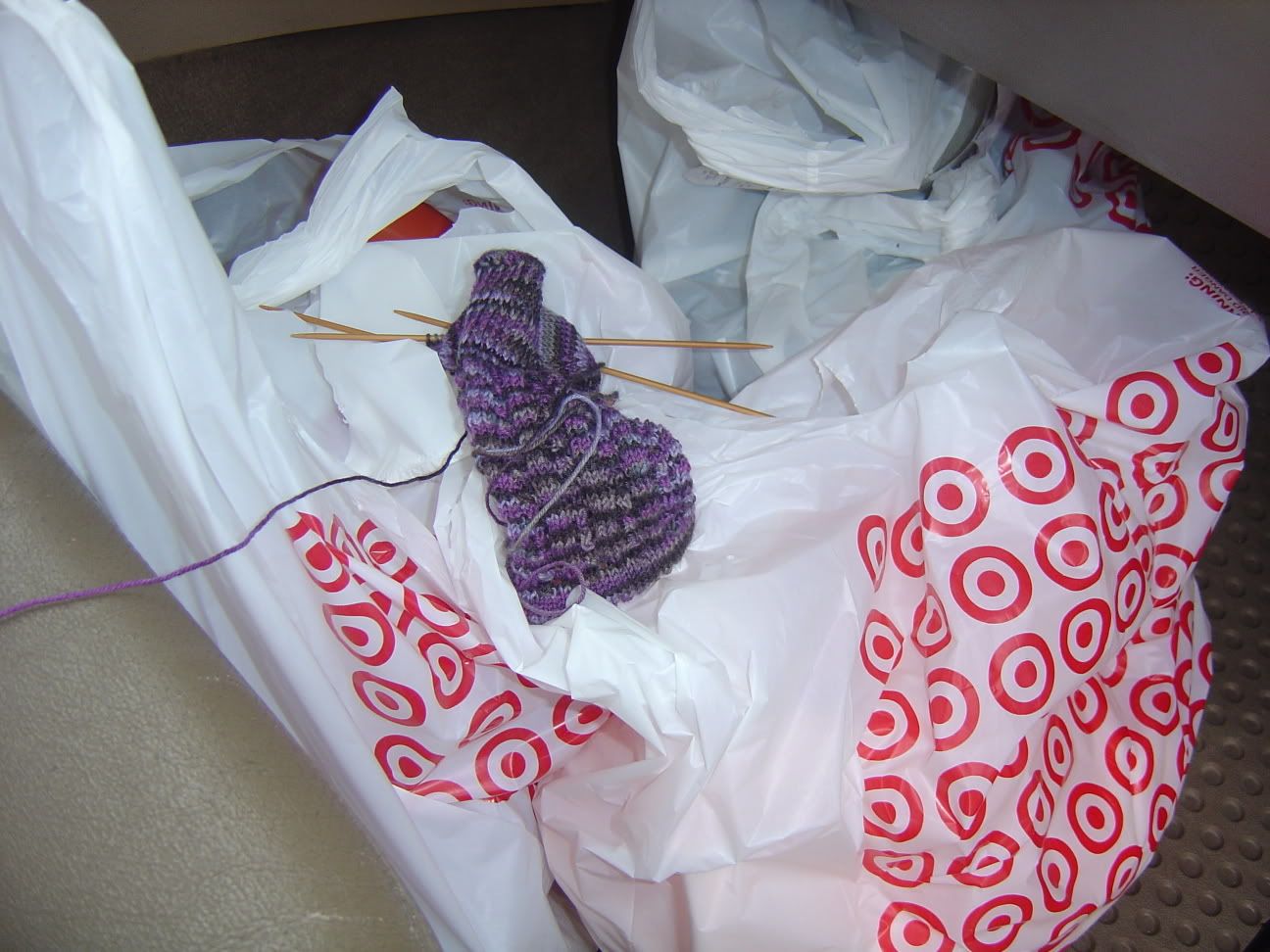 A quick stop at Target to get some sparkly barrettes for the girl's prom this weekend. (note: "quick stop for barrettes" = 45 minutes and $97 at Target. I heart Target.)
aye..... TOTALLY forgot to stop at the furniture store and look at new bedroom furniture. Oh well, next trip.
"How many more places do we have to go????" Oy, Purl, you're as bad as one of the kids. We're done for now, but we have to go home and do some housework and laundry, pay some bills, go to Vons and the bank.... then pick up the girls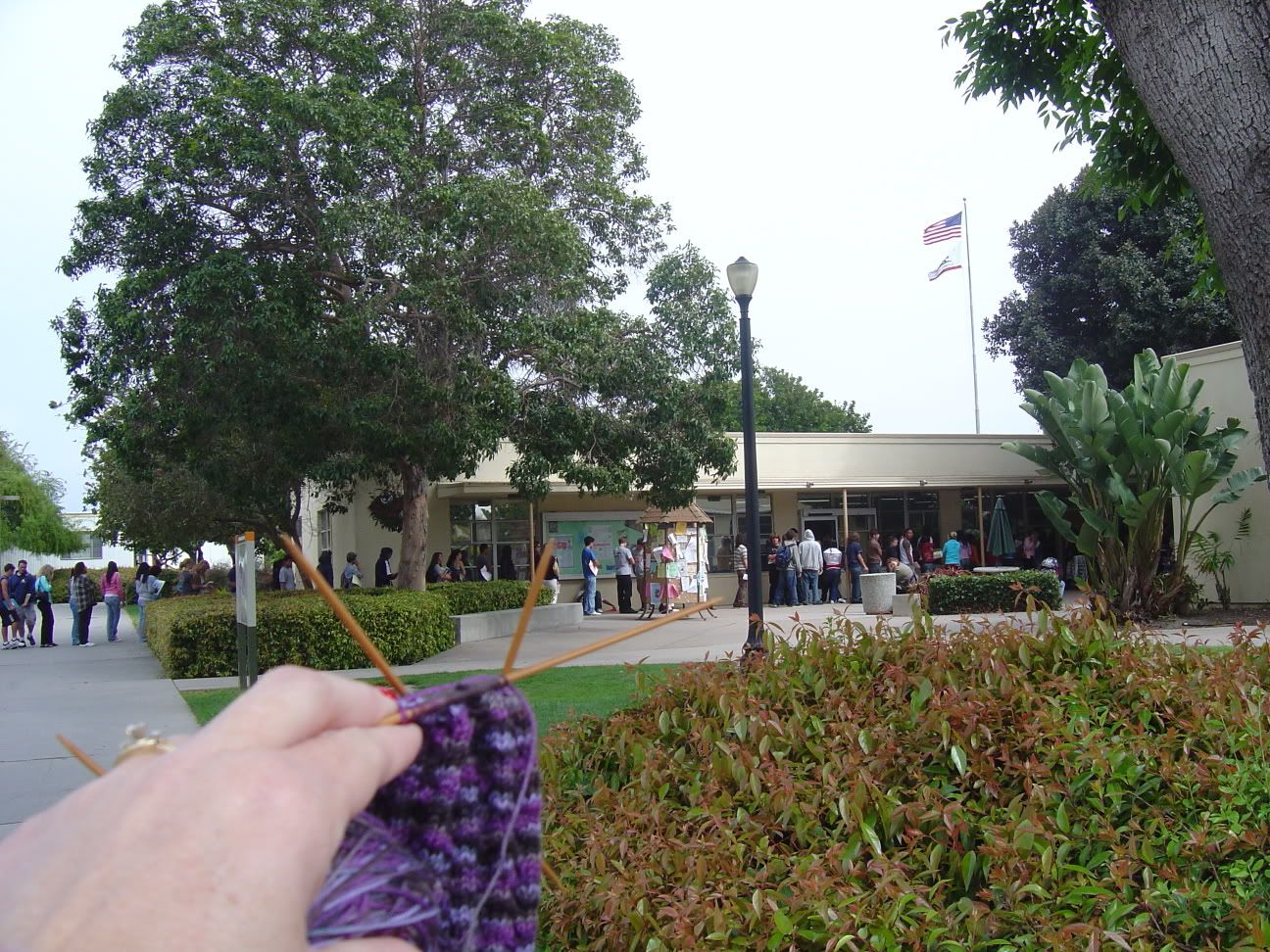 after school and take Kaity
back
to town so she can see her college counselor about classes for Fall. We should get lots of knitting done waiting around at the college.
Ok - or NOT. After we drive back to town the line for help with registration is about 45 people long..... we DON'T have time to stand in that line.... back home.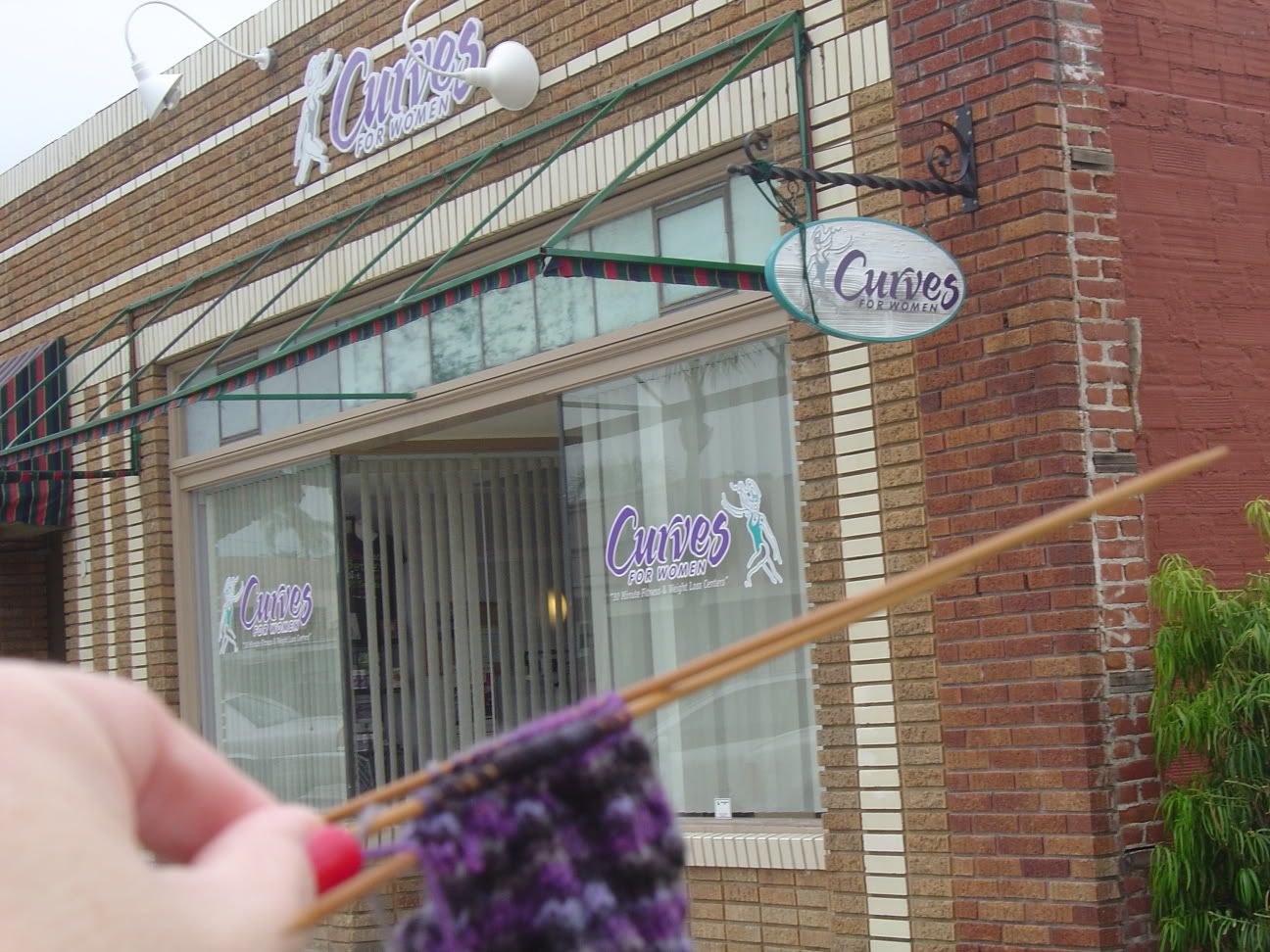 Oh wait.... forgot about the gym...
Then, it's back home, make dinner, get one of the girlies to clean up dinner, check email and Bloglines, and get this posted.... do a little more sprucing up around the house and the laundry put away, and THEN we can sit and knit in front of the TV. I promise.
Oh Purl quit complaining. I want to knit as badly as you do. Remember, it's not all fun and games and eating Bon-Bons for me, either. ----- I need a "day off."