I Am Not Tense...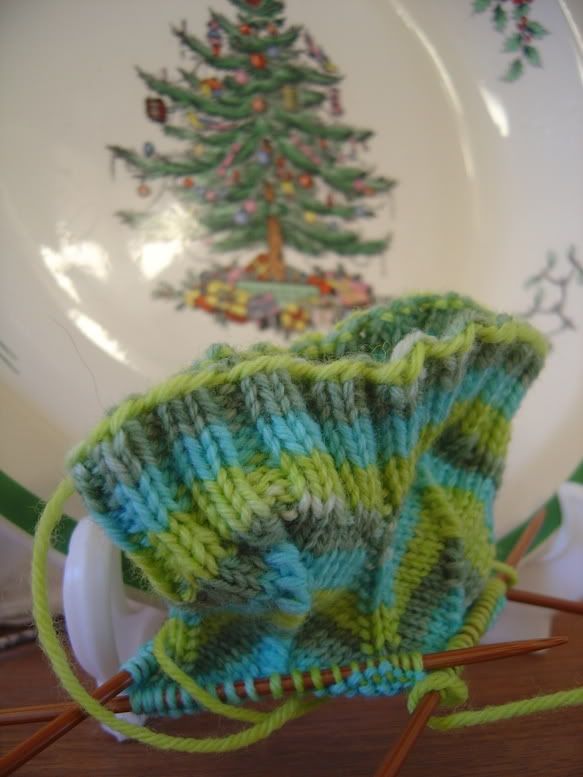 ...just dense. Kaity and I were "discussing" the fact that it takes me at least three trys to get a new knitting project successfully started. Knit, rip.... knit, rip... knit, rip.
So, we're both making Jaywalker socks. Kaity's got hers started, looking fine... first time out of the starting gate - of course. Me, I decide to use my Sock Garden in Redwood Forest. Cast on, start the ribbing.... I've made enough socks that at least I can do that right. But, the cuff already looks a little big, and I'm determined to do them on my size 2's - so I figure maybe I'll switch to my Vesper Sock yarn that Julia sent me, in the Knit and Tonic colorway, and do them with that instead. So, start over... start #2. I'm knitting away, past the cuff, onto the pattern. Man, this is making some beautiful stripes!!!
Then, they seem awfully small. And tight. And puckery. Hmmm.... go get Kaity's Jaywalkers-on-the-needles. Nope, mine don't look anything like hers. Mine look like some kind of Barbie bustier.
I show them to Kaity... help meeeee. "Mom, what the? Why are they so tight? Calm down!" I am calm, I am knitting loose, I'm not tense! No really.... I'm really not... I'm happily knitting - why are they SO tight? Darn, I don't know. Well, this certainly isn't going to work. Maybe it's the yarn. Maybe I should go back to the Sock Garden. So, rip....
Try #3 - back to Sock Garden. Cuff done... looking good. Okay, start the pattern. Hey! (insert light bulb over head here!). Duh, idiot, moron, can't follow a simple pattern. I NOW remember back when I first read the pattern (you know, just the once), that the "patterned" part of the sock had TWO rows, one a pattern row, one a straight knit row. I've been doing the patterned row every row... no wonder. "Duh Mom." Yeah I know. I'm not sure I should be allowed to knit. And Kaity should really pay more attention to what I'm doing when I do knit. Yeah - let's blame her!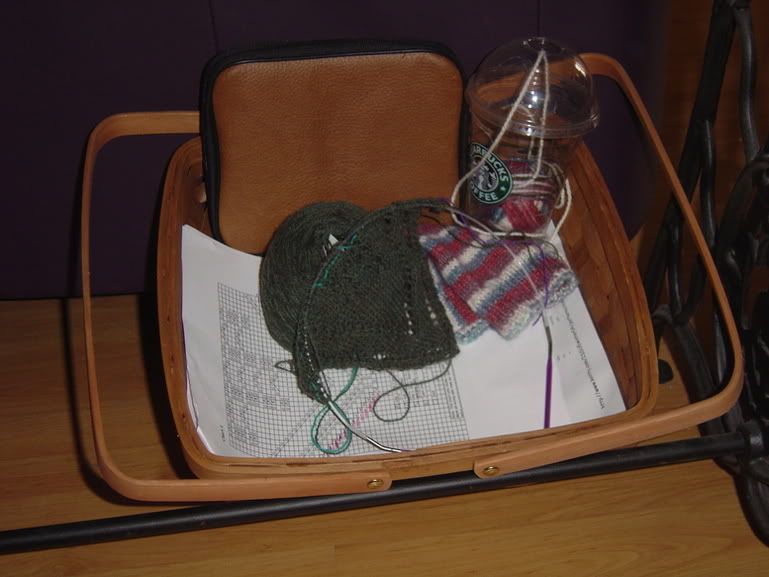 So..... Still on try #3, and they're looking beautiful. I've already turned the heel and picked up my stitches. Pic's tomorrow. You'll be impressed. I am. Of course, at this point I easily impress myself! But hey - it's the third try on the same socks..... so it should be smooth sailing from here on out!
And.... check some of this Christmas loot - a nice basket for my knitting from a dear friend (the Branching Out recipient),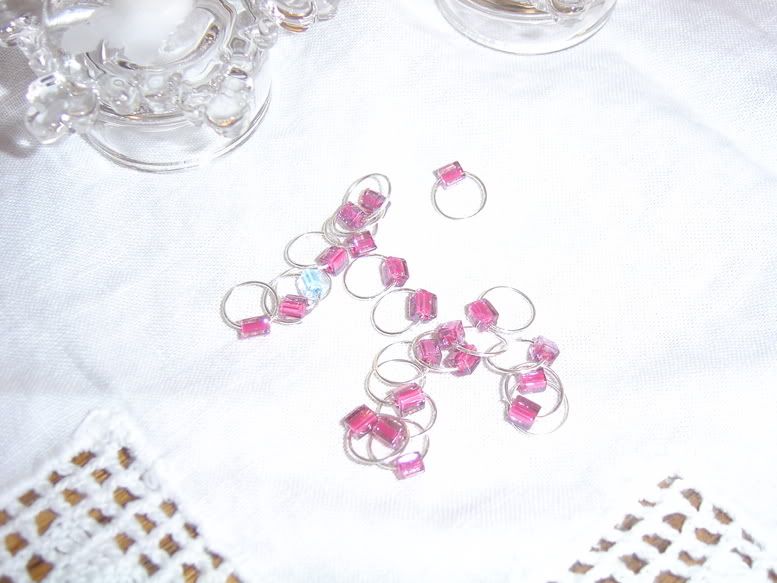 and, these most gorgeous stitch markers....silver and gemstone! My first "pretty" stitch markers. The adults on my side of the family choose names, and my BIL got my name (Christmas-head's hubby). He actually went to my favorite LYS and picked these out himself! - along with a nice little gift certificate! What a guy! Nice job.
(sorry about the wonky picture at the top.... for some reason I can't get it to post right. If you click on it, the enlarged picture is better... not my fault, I'm sure)