Take Me Camping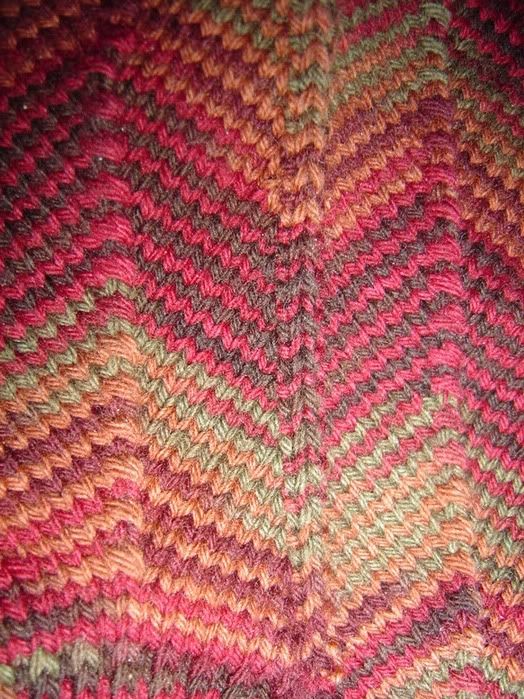 Sock Landscape, Red Wood Forest
colorway. Pretty aptly named, wouldn't you say? This yarn just makes me want to go camping, especially in the Sequoias.
I love camping. I grew up camping. My sister's birthday is in July and she used to say that every birthday she remembers as a child was spent in a campground somewhere.
The hubby loves camping. One of the things that drew me to him was that he was the "outdoorsy" type.... (well, that and he was cute, and we were both in college, taking Algebra II for the
second
time.... we were obviously meant to be together).
So, we've always camped. The kids have always camped. Since they were babies - months old. We usually tent camp, but we've done it all, trailers, campers, backpacking... but we mostly tent camp. Get to our destination, throw out assorted bags with tents, poles, ground pads, and sleeping bags, and even my girls can set up their own tent in no time flat.
People are always amazed when a girl can set up a tent. This comes in handy for the girls when they go camping with their church Youth Group. All the "guys" are standing around, not knowing which way is up with their tent poles, and the girls are all moved in, laying on their sleeping bags, and starting in on the snacks they brought.
A few months ago the hubby and I went camping with about 40 or so of his "manly men" friends when they had swift water training. Families were invited. Only three other women went, and one never left her 40' luxury camper the whole weekend - never saw her. I know the other woman pretty well, and we spent the weekend together, camping around and watching the guys. After a nice campfire, when everyone retired to their tents and campers for the evening, it was not lost on the majority that they were going to a lonely sleeping bag and, well, the hubby was not.... let's just say... you rack up major points.
The morning we left, while the guys were all freezing their you-know-whats off in the freezing river water, I packed up camp and got it all stowed away. One of the oth
er guys walked by, amazed, and said "you packed up camp for him??? Man, I'm gonna go home and kick my wife's butt!"
I love camping. I need to go camping.
So, checkee out my
Jaywalker
camping socks... coming right along! I finally figured out what I was supposed to be doing, and these are really fun to knit! The pattern is a snap (well, yeah, once you do it right), and that's my favorite part.... totally portable, don't have to bring your pattern along, and just different enough to keep it interesting.
So, back to camping. Last year the hubby's parents gave us their trailer, when they were "trading up." I tell ya - this is the big time. Everytime we take it somewhere I can't believe it's ours! Indoor plumbing, and a kitchen. Okay, to tell the truth, we hardly go in it, except to sleep. We still cook outdoors, run to the campground bathroom.... this'll take some getting used to, living like a queen and all.
Actually, the hubby's hauling the trailer home tonight. It's also our "spare room." His parents are coming from Texas to stay a few days for a late Christmas. We set them up in their old trailer in the driveway. Good of us, huh? Actually, they love it, and we love having them. Don't know how much knitting will be done, or blogging, but I'll check in when I can, maybe with a finished sock!