I Love... Cake
The conversations in our house are heavily interspersed with lines from our favorite movies. Mostly Princess Bride, O' Brother Where Art Thou, and Napoleon Dynamite (yeah - we're real culture freaks around here) - but we glean a line or two from most movies we watch, and some TV. The line "I Love Cake" is from The 70's Show, where Donna tells Eric she loves him, for the first time, and he's caught off guard and stammers "I love..... cake." Whenever anyone in the house says "I love....whatever" someone evitably states they love cake - or my hubby says "then why don't you marry it!" (PeeWee's Fun House reference). Yep, we'r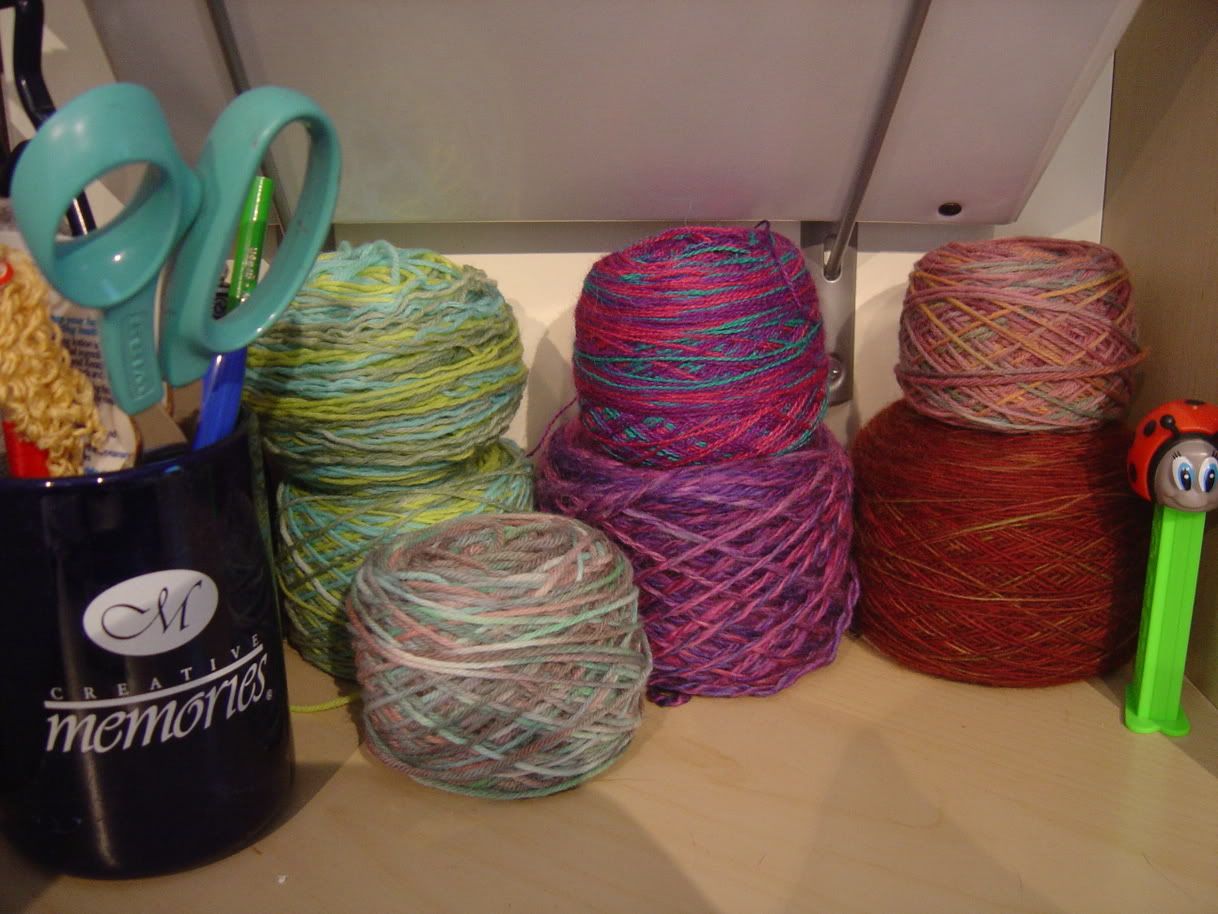 e a class act here.
ok - wait, at least O'Brother is loosely based on Homer's Odyssey.... there ya go, a classic thrown in the mix.
The wasted brain space in our combined family brains, filled with stupid movie quotes, is scary. We could be watching and quoting Shakespeare, or any number of cultured things.... but no, around here it's lines shot off from "Blazing Saddles" (the funniest, and most irreverent and politically incorrect movie of all time - I can't believe I just outed myself on that one....it's bad, really) ,"Sand Lot" (your're killing me Smalls!) and "Ferris Bueller's Day Off."
My poor children, they don't stand a chance. Thankfully, they have a lot of Bible verses tucked away in their brains and hearts, and the verses to sooo many hymns and praise songs.... they'll be okay.
Anyway, I had a point...... oh yeah, well, I like my yarn in cakes. I LOVE the ball winder that was gifted to us by a fabu blogger/friend. I can't stand to see a hank of yarn - it must be wound into a cake. I like to stack them up and look at them..... I just like them in cake form.
They sit on my desk and taunt me, these little cakes - every day they want to be something different. One day the purple one wants to be a scarf, then next day it wants to be wrist warmers. The Knit-and-Tonic Vesper sock yarn won't quiet down about wanting to be next...., when it knows the Trekking XXL has pushed it's way to the front and is acting so smug about being the next pair of Jaywalkers. And that purple/pink/green lace weight that just keeps harping at me, trying to convince me it's really not as ugly as I think it is..... an ugly duckling, promising to be a swan. They try to get me to stop working and knit. And they REALLY try to get me to be a multi-project kind of gal.... They're incorrigible, really. So far, I'm stronger than they are, I have NOT cast any of them on until it's their turn.... but they're growing in numbers, and it's inevitable that someday they'll overpower me. THIS is why I don't have a large stash. I couldn't take the taunting and pressure. I.am.weak.