Fashion Excuses
In Southern California, we need fashion excuses. We don't get enough change in the weather to have much difference in our wardrobe throughout the year.
Wendy
was talking about this yesterday.... rain as a fashion excuse. That's about as drastic as it gets. We get a few weeks of really cold days, where you really need a jacket; and where I am, it actually does get hot in the summer, but that's only because I'm 30 miles inland from the coast. If you live on the coast of Southern California, it's about 60-70 all year long. However, there are not many "hot weather knits" I'd be comfortable wearing, so that doesn't help me in the knitting department.
My hubby works near the coast and, no kidding, wears shorts 355 days a year. About 10 days of jeans, otherwise he's in shorts, all year long, wherever he goes. And his
Chaco
sandals as soon as he can get out of his work boots. He has worn shorts for years. It's kind of like his trademark now. The kids laugh and tease him when he puts on long pants. It was 50-60 and raining for the last three days, and he was in shorts. He'll put on a sweatshirt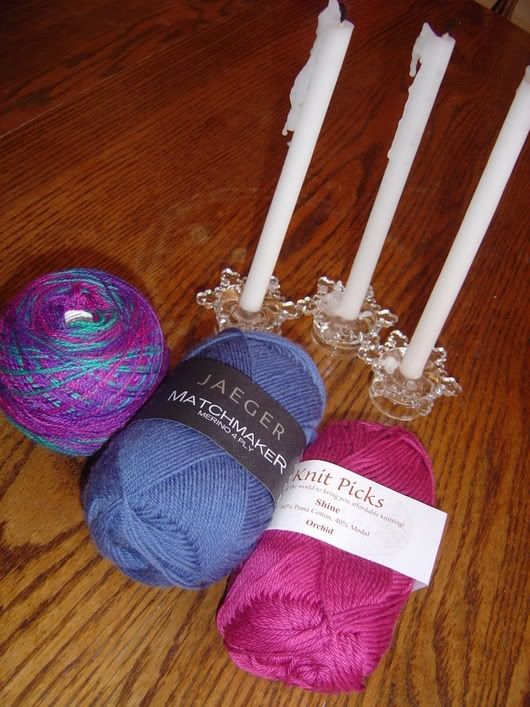 or jacket quite often, but rarely long pants.
When I was a kid, my mom used to make my sister and I matching dresses, looking for event as an excuse. Even way back then California was casual, we were kids, and rough on our clothes. We had school clothes, play clothes, and church clothes. Not much excuse or money for frivolous clothes.
Our favorite were our "airport dresses." She made these for trips taking the grandparents to the airport. We never got on a plane, we just took people to the airport. Those were the days when you could go clear to the gate and stand at the window and wave at the plane. I remember the material was cute little paper dolls holding hands. I also remember matching "pantsuits" for a trip to Knotts Berry Farm, with matching purses that she had made (they were cute, green burlap lined of course, with beads - I remember that I dropped mine in a pond and the green dye from the burlap ran, and I cried).
Mom sewed all our clothes, except for jeans and play clothes. I didn't have a store bought dress until I was in high school. And, I lived in the olden days and didn't
ever
wear pants to school, until JuniorHigh, and then it was "pantsuits" with matching pants and vests. Ewwwwwh, what can I say, it was the 60's and 70's, not a great period in fashion.
Mom made the most beautiful clothes. Still does. But, remember, I didn't get the "mom-crafty gene." I don't sew anything unless I absolutely have to.
So, in California we need excuses to knit stuff. Not a lot of use for scarves and gloves.... but that doesn't stop us from knitting them. I have more wool sweaters than I'll ever need, yet I'll still knit more. Two days ago, when it was actually cold and pouring rain, the girls, my MIL, and I ventured to the mall. Half way through the trip I mentioned to Kaity that here was the perfect weather finally for a scarf, but did I remember to wear one? - no.
So, I'm knitting
this scarf
with a reason. My MIL's birthday. She lives in Texas, and it actually gets cold there sometimes (well, really, not much more than here, but I need an excuse). However, she does travel a lot and
goes
to cold places, so it'll work.
I tried three different yarns before I found the right one. The first was a variegated lace weight I bought from KnitPicks. I didn't get more than about six rows before ditching it. I've tried to make this into something a couple of times, and just don't like the colors. I may never use it.
The second was that bl
ue Jaeger. This has tried twice to be socks, and I thought maybe it wanted to be a scarf, but it was just too scratchy and stiff. (Next time I'll try and remember to take pictures of these failed attempts, would make it a little more interesting, huh?)
Lastly, I remembered I had a few skeins of KnitPicks Shine left over from my Marilyn's NSS Cardi. It's working up perfectly. Very soft and drapy. We're good to go.
I've finished the horseshoe edge of the scarf, and am ready to do the eyelet row and start on the body of the scarf in a rosebud pattern.
I've discovered I really love knitting lace. This may be a good thing. Lace is more wearable in my climate. Lightweight shells, tank tops, lightweight scarves, shawls. This may be my niche.
Well, besides my goal to wear nothing but handknit socks for the rest of my life. See, inventing excuses to knit.