Is It Rude?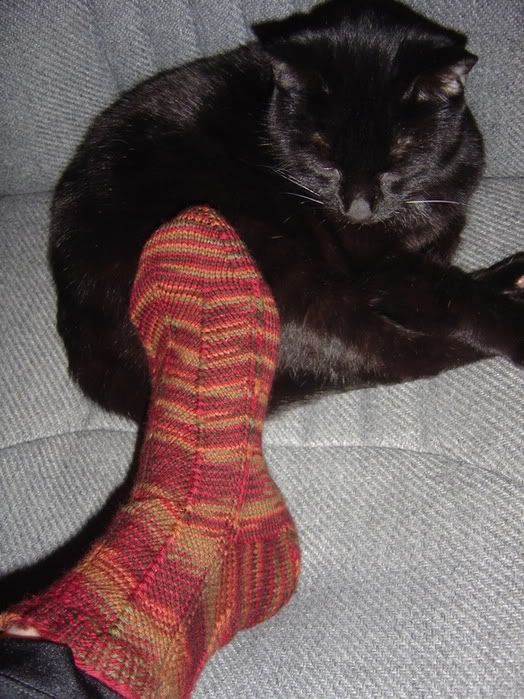 Here's Carmie, checking out my one finished Jaywalker sock... but the 2nd sock IS casted on, and the cuff (hate working the cuff) is done, so it's all good. This Jaywalker pattern is sure fun to knit.
It's been a BUSY last few days here with the inlaws visiting. Lots of shopping, and cooking, and visiting, and family around. Love it.
So, here's my question - while sitting around, visiting with family or friends, do you knit? When we're all lazin' around in front of the TV it's different, in front of the TV is fair game... but, say, everyone's sitting in the living room, "visiting."
We were all sitting in the living room the other day, the hubby and I, my parents, his parents, all visiting, and I picked up my 2nd sock.... but I couldn't bring myself to knit more than a row or two. I had to put it down. It felt like I was being rude, somehow. No one said anything, or gave me a look, it was totally me - I don't know.... what do you think?
Same thing at "Monday Night Dinner," at my mom's. Now, we do this dinner every week, and it's just my family, my sister's family, occasionally my brother, and my parents, having our weekly dinner and visiting for an hour or so. Nothing formal, believe me. But, I don't bring my knitting. I would feel rude. I don't really know why. I CAN talk and knit at the same time - I'm not ignoring anyone.... hmmm. I do, from time to time, think about how much knitting I
could
be getting done, though!
Tonight I may take a break from the 2nd Jaywalker and start
this scarf
for my MIL's birthday. They left for home today - so she won't see me knitting it. Maybe tomorrow I'll have some progress to show you. It's a cold and windy, rainy day.... just great for curling up in front of a fire and knitting.