Oooh - I Got Told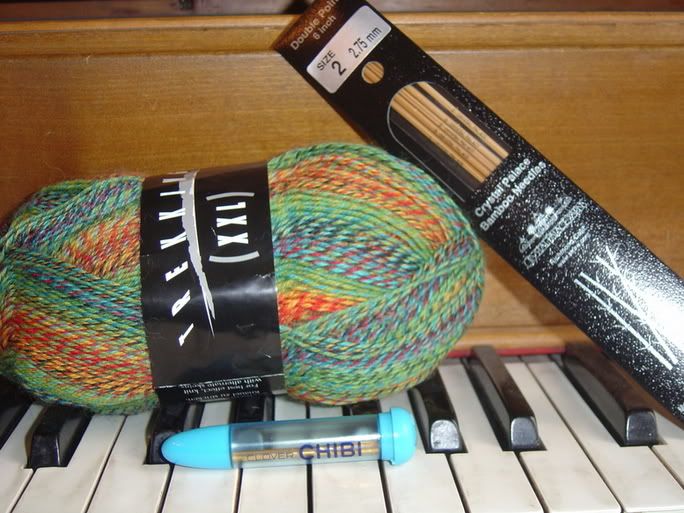 Well, the other day Kaity and I trip it on down to our not-so-local yarn store to spend our gift certificates. I didn't really have anything in mind.... but I thought I'd like some new #2 DPNs for sock knitting. Those are my favorite size, but mine are a little long and I wanted to try shorter ones. This is what else I found!
Cool new sock yarn,
Trekking XXL
. This is new to our LYS, and it had some pretty funky colors (I bought color #100). And a Chibi - everyone needs a Chibi.
We're driving home, and Kaity reads me this line out of her new
Ann Budd's Knitter's Handy Book of Patterns
- "There's a sense of intimate luxury that comes with wearing a pair of handknitted socks - whether or not anyone else can see them." I said "exactly, and I think my goal is to get to the point where I only wear hand knit socks."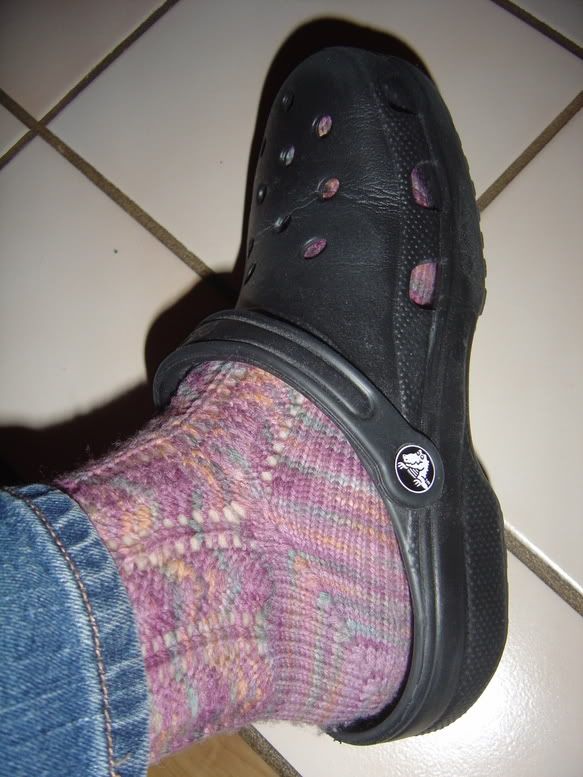 So, Kaity asks if I'm wearing handknit socks right then - heck yes I am... my
Holiday Sox Exchange socks from Julia!
Kaity looks at my feet, "Mom.... ugh... hand knit socks and those ugly clogs - what are you, some kind of hippie!" I said, "hey,
Wendy
has these clogs!" (Wendy is
very
cool) to which Kaity shoots back - "Mom, you are NO Wendy."
Ooooh, burn, I got told...
Oh well, I'm still wearing my clogs whenever I want, and my goal is still to get to the point where I only wear handknit socks. I'm gave up on every being "cool" long ago - I've got teenagers who keep me in my place...